Opposition activists blocked some streets and intersections in the center of Yerevan this morning, reports
TASS
.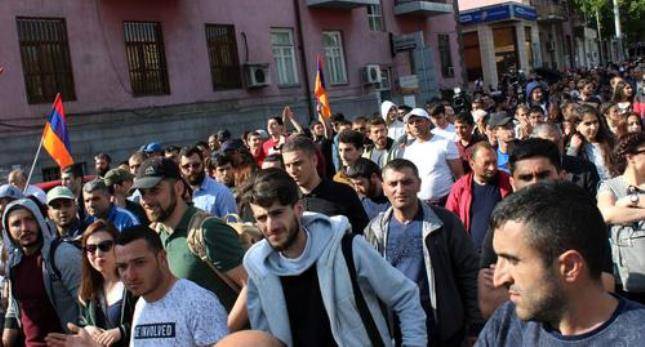 The demonstrators are protesting against the nomination of ex-President Serzh Sargsyan as a candidate for prime ministers of Armenia.
We began civil disobedience actions. I urge all citizens to go under the cars, close the streets and avenues of the city, to prevent the work of the subway. Those who are against in order for Sargsyan to become prime minister should gather on Baghramian Avenue - at the parliament building,
said the leader of the opposition Civil Contract Party, deputy Nikola Pashinyan.
According to him, "similar actions are taking place in the city of Gyumri, where activists blocked several central streets."
The demonstrators, sitting on the asphalt, blocked the intersection of Moskovyan and Baghramian streets, as well as the Baghramyan avenue near the parliament buildings and the presidential residence. In addition, young people blocked the streets of Abovyan and Moskovyan. They are chanting "Strike" and "Go Out!". The traffic on the indicated streets has stopped.
The police issued a statement saying that "all actions of activists are illegal, thereby limiting the right of citizens to freedom of movement." Police prohibit protesters from approaching government buildings, but they are not using force yet.
Recall, the ruling Republican Party of Armenia (RPA) a day ago officially nominated the candidacy of ex-president, RPA President Serzh Sargsyan for the post of prime minister of the country.
The republic has completed a constitutional reform - the transition to a parliamentary form of government. The president of the country, elected by the deputies, will have only limited representative functions. Now the full executive will be concentrated in the hands of the Prime Minister.
The election of the Prime Minister in the Armenian Parliament will be held on April 17.