The Russian resolution in the UN Security Council, which refers to an act of aggression against an independent state, in addition to Russia itself, is supported by two more states - members of the Security Council. This is the People's Republic of China and Bolivia. 8 members of the Security Council spoke against the document: the USA, France, Britain, Poland, Kuwait, Sweden, the Netherlands, Côte d'Ivoire (5 of eight are members of NATO, Sweden is already thinking about joining).
The remaining members of the Security Council of the United Nations decided to abstain, that is, to say in fact that they could not decide on thoughts about whether there was an invasion of an independent state or not ...
These undecided - Ethiopia, Peru, Equatorial Guinea and, which attracted special attention, Kazakhstan. That same Kazakhstan, which is located not only in the Eurasian Economic Union, but also in the Collective Security Treaty Organization (CSTO).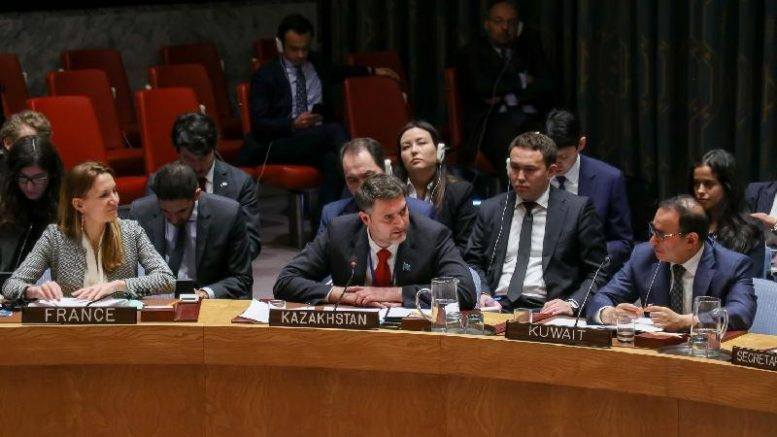 What can mean "abstention" of the representative of Kazakhstan in the UN Security Council? It is clear that, fundamentally, the voice of RK would not have decided anything, but we can state the following: Kazakhstan's political partners, even on the question of overt aggression against an independent state by the United States, Britain and France, decided to try to sit on two chairs. Apparently, a directive came from Astana to vote "no way" in order for the United States to notice the "Astana opportunity" for negotiations on the Donbas. Recall that during an urgent visit in connection with the frozen 22 billion dollars in the United States, President Nursultan Nazarbayev of Kazakhstan told Trump that Astana could replace Minsk "if necessary."
Recall that the representative of the Federation Council of the Russian Federation Konstantin Kosachev, commenting on the vote in the UN Security Council, said that everything, by and large, passed without surprises, but at the same time he was surprised by the position of one state. He did not say what. But there is a version that it was just about the strange position of Kazakhstan, whose leadership actually signed that it would not say "no" in principle in case of direct NATO aggression against independent states. Or they decided that if Russia didn't respond to NATO militarily, then it is possible to test removal from the diplomatic position? Was it necessary to wait for diplomatic support from Astana after
stories
with the non-recognition of the Crimea? - a separate question.
It's time to translate Kazakh into Latin to please more partners overseas ... Strategic partner!