Trump's decision to strike against the background of the Pentagon's claims that an investigation of "probable himatak in Syria" needs to be carried out seems to have caught many leading politicians in the United States by surprise. Unless, of course, this is a well-played spectacle.
Thus, the head of the Democratic Party's faction in the US Senate, Charles Schumer, reacting to a Syrian missile attack, said that the attack was "appropriate", but it must remain pointed, in order not to drag the United States into a much more serious military campaign.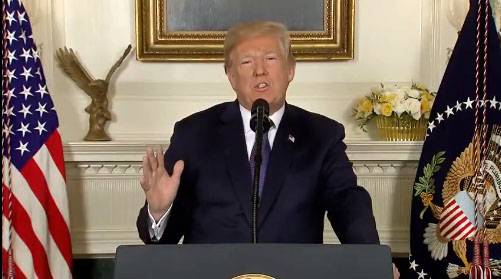 From the statement of Charles Schumer (quoted by CNN):
Dot and limited action aimed at punishing Assad is necessary. But in the administration (Trump) they must be extremely cautious, otherwise they may drag us (the United States) into a large and protracted war.
In connection with a missile attack by the United States, Britain and France on the SAR, UN Secretary General Anthony Guterres put off his trip to Saudi Arabia. He was going to speak at a meeting of the League of Arab States (LAS), but canceled the trip. The press secretary of the UN made it clear that they learned about the military operation from the media, and the decision was already taken on the background of the end of the launch of a missile strike - approximately at 5: 30 (Moscow time). The same missile attacks on objects in Syria were made in the period from 3: 45 to 5: 10 (MSK). Now, as noted, the UN secretariat is trying to contact the OPCW mission in Syria.
According to the latest data, the Syrian air defense intercepted 20 cruise missiles. About how many missiles goals reached, at the moment is not reported. At the same time, the Defense Ministry of the Russian Federation stated that the missiles were not within the responsibility zone of the air defense of the Khmeimim airbase and the Tartus naval base.