Ankara said that they now know the alleged curator of the murderer of the Russian ambassador Andrei Karlov. The prosecutor's office noted that the militia's curator (former police officer), who shot a Russian diplomat, was able to emerge on the trail, including after careful analysis of the information from surveillance cameras.
According to the Turkish Prosecutor's Office, a certain Шахahin Sogut supervised the actions of Andrei Karlov's murderer. This is a former employee of the Office of Information Technology and Communications. At the moment, Sogut is under arrest. He was detained on April 5. Also, the Turkish police decided to arrest the organizer of the exhibition, where Andrei Karlov spoke with a welcoming speech. In total, 7 people were arrested in the murder case of the Russian ambassador.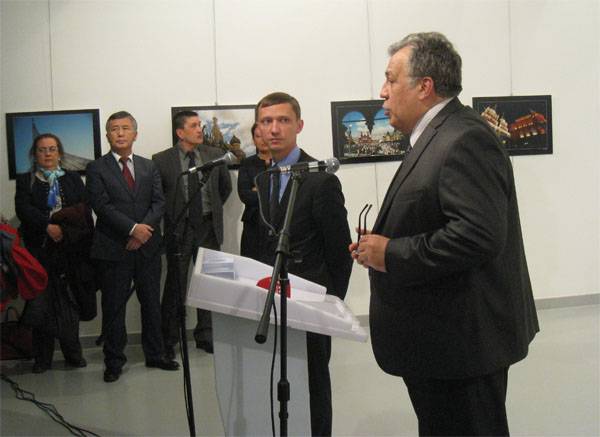 It is noted that both Sogut and Altyntash, who was shooting at the Russian ambassador, were members of the organization of Fethullah Gülen, who was hiding in the US from Turkish justice. Recall that Washington is ignoring the demands of Ankara to extradite Gülen as the main suspect in organizing a coup attempt in Turkey.
The investigation into the terrorist attack against the Russian diplomat in Ankara continues.