The world is getting closer to the danger line, war can come at any time. In one of his tweets, US President Donald Trump ordered us to "prepare." Because "there will be many rockets." Yes, not any, but "good." "New and smart." As if this is not the president of one of the major world powers, but a schoolboy who is gathered to play a computer game with very advanced graphics.
«
You should not support an animal that poisons its people with poison gas and does it with pleasure
"- Trump concluded.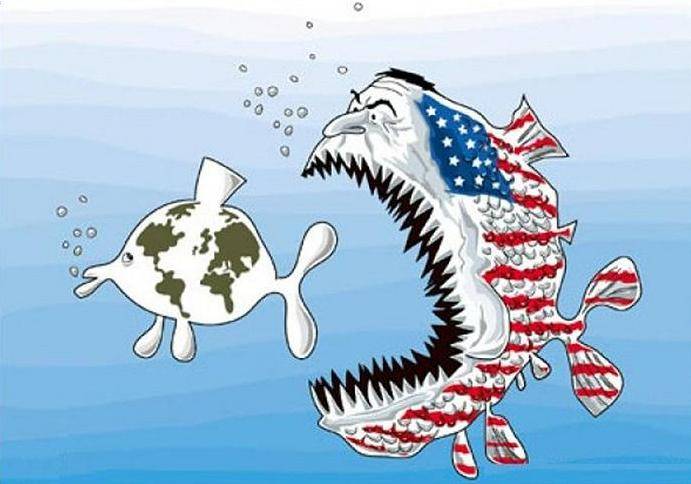 Indeed, we see a dangerous animal. This animal kills people just because he likes it. He likes it when the whole world lies at his feet, and if someone refuses, there should be a terrible roar and the subsequent demonstration of teeth and claws. At the same time, the animal ascribes its features and qualities to others. This animal eats, one after another, entire cities and states. And this animal does not have a specific name.
Say his name is USA? This would be inaccurate because one cannot be like this animal and declare any country a "rogue state". Even a state like the United States.
Maybe his name is Donald Trump? But long before Trump came to power, this animal killed, bombed, robbed, discriminated against countries and peoples, seized other people's resources, arranged state coups. This is not a complete list of countries and cities where it was noted: Hiroshima, Nagasaki ... Korea, Vietnam, Panama, Grenada, Chile, Yugoslavia, Iraq, Afghanistan, Libya ... Yes, and the Syrian war began not under Trump, but under his predecessor Barack Obama .
Moreover, the current American tycoon-president seems to have fallen prey to this very animal. And before him exactly the same victim was Obama. These two politicians went to power, criticizing their predecessors. They wanted - at least in words - to put an end to the aggressive policy of the United States. Obama even won the Nobel Peace Prize in advance - his "pigeon" were his statements. After that, the horrific traces of the animal appeared in the Middle East - the "Arab Spring" burst out with all the ensuing consequences that still have to be raked. Those who survive.
When Obama was president, Donald Trump made many posts on his Twitter microblog. He tried to explain how disastrous for the United States possible attacks on Syria. But then the mysterious animal ate and his brain.
It is not given to the American presidents to resist him seriously. Kennedy's fate is the fate that can wait for someone who opposes this animal.
So how do you call him? World oligarchs? "Committee of three hundred," as in some conspiracy theses? World capital? Imperialism, as it was called in Soviet times? Globalism, as they say now? Or is it just a system?
But no matter how you call this animal, it will kill, lie, threaten threats, blackmail - and at the same time dress in the beautiful skins of "freedom" and "democracy." And in such moments, as it is now - to throw off all the tinsel and show only an eerie grin.
Bomb the whole country, ostensibly to protect the 70 of the alleged dead ... who don't care. That's the whole logic of Donald Trump, the victim of an animal. In one thing, he is only right - with him, with the animals, you need to fight. In itself. But it is much more difficult than launching rockets.
These days we see how fragile the world is. Western politicians can make two opposing statements in one day. First, the closest ally of Donald Trump - British Prime Minister Theresa May - seems to require more evidence of the alleged chemical attack in the city of Duma. By evening - another statement. So without receiving evidence, she is ready to violate the Constitution of her own country and give consent to complicity in the American military operation without the permission of Parliament.
No better than Trump himself. At first, he becomes like the American "good" rockets, mentions the mysterious "animal", and then writes in the same blog about his readiness to stop the arms race with Russia.
Maybe Western politicians make contradictory statements specifically so that few people can predict their actions? Thus you can keep the whole world in horror for weeks. For months. For years. Long years. Now the seven-year-old children of Syria do not know what it means to grow in a peaceful country ...
This is called terror. Maybe because terrorists are so close to Washington and its allies, whom they constantly finance, cover up and are ready to defend even at the cost of a global confrontation? A petty terrorist armed with a grenade holds a limited number of people hostage. The global terrorist, in whose hands there was a red button, holds humanity hostage. But above these terrorists stands the main terrorist - the same animal, which has neither a name nor a clear appearance, but leaves clear bloody traces all over the Earth.