A group of deputies from the Communist Party of the Russian Federation submitted to the State Duma a draft law on Russia's withdrawal from the World Trade Organization (WTO).
The WTO rules have caused enormous damage to Russia, since 2012 has been a steady decline in economic growth, which has reached negative values ​​by 2015-16 years
- quotes an explanatory note to the Interfax bill.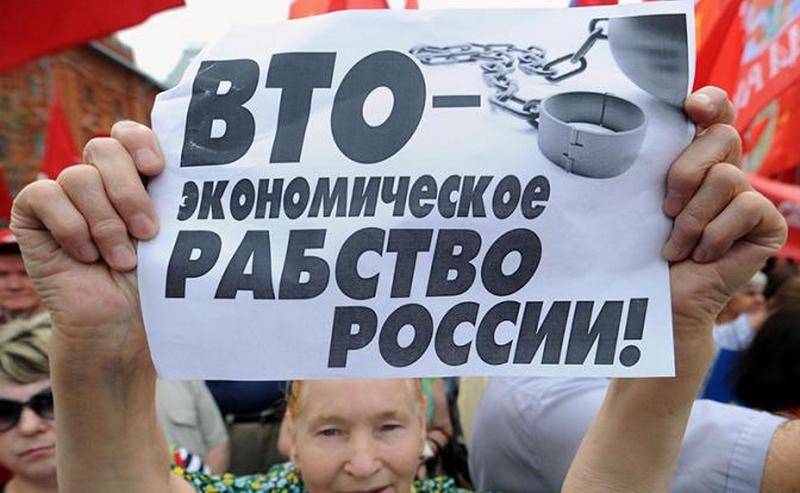 The authors of the law note that there are no obvious benefits from Russia's presence in the WTO.
The introduction of economic sanctions against Russia, says that the WTO does not protect the country from the tyranny of the international oligarchy and political insinuations. Thus, the UN Special Rapporteur on Human Rights, Idris Jezayri, dealing with the negative impact of unilateral coercive measures, called the sum of losses of the Russian economy from sanctions in 52-55 billion dollars.
- the document says.
Also, the Communist Party of the Russian Federation believes that the WTO is being used as an instrument of pressure on Moscow and suing the international court for collecting a fine from Russia in the amount of 1,39 billion euros per year for the imposed pork embargo.
Such a penalty annuls all preferences received from the WTO by Russia, both used and not used. In this case, the exit from the WTO is necessary and inevitable.
- underlined in the explanatory note.
This is the third attempt of the Communists to vote through the bill. The consequences of Russia's withdrawal from the WTO, according to the authors of the initiative, will not adversely affect the country's economic development.