The UN Security Council did not support the two Russian draft resolutions on the investigation of reports on the use of toxic substances in Syria, reports
RIA News
.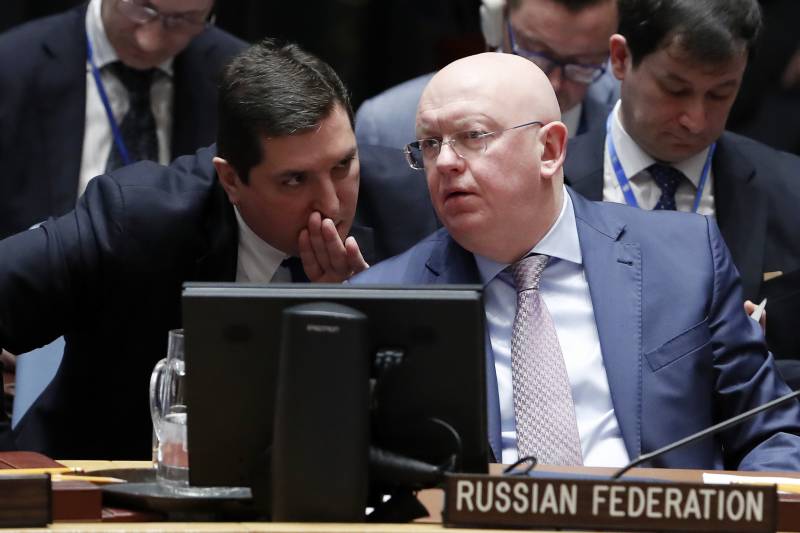 First, the Security Council rejected the document on the work of the new mechanism to investigate himatak in Syria. The proposed project was supported by six countries instead of nine necessary, including two permanent members of the Security Council - Russia and China, as well as Bolivia, Kazakhstan, Ethiopia and Equatorial Guinea. Two countries - Kuwait and Cote d'Ivoire abstained. The other seven members of the Council were against it.
Later, the Security Council rejected the project proposed by the Russian Permanent Mission in support of sending experts of the OPCW to the Syrian Duma. The document was supported by the Russian Federation, China, Ethiopia, Kazakhstan and Bolivia. Voted against the USA, Great Britain, France (permanent members of the Security Council) and Poland. Six countries abstained.
Permanent representative Vasily Nebenzia, commenting on the outcome of the vote, noted that it causes great concern.
Failure to adopt a resolution is, unfortunately, a litmus test that says a lot. And with us this causes big, big concerns. We proposed a completely innocent resolution, which, moreover, almost completely repeated yesterday's Swedish,
said a Russian diplomat.
US Permanent Representative Nikki Haley explained exactly what she did not like in the second draft resolution:
Russia has included several proposals in its project, which are very problematic. She also (the Russian Federation) is trying to compromise an international investigation. The resolution puts Russia and the regime (Syrian President Bashar) Assad to the driver's seat in order to prepare (work) the fact-finding mission (OPCW). We are asked to believe that the government itself, which says that everything that concerns the Duma is a fake, will work in good faith with the OPCW.
She added that the project had laid the "micromanagement of the work of the experts of the OPCW", which indicated "where the investigators need to go".
Recall that at the end of last week there were reports of the use of chemical weapons in the city of Duma. Western countries accused the Syrian authorities of what happened. Damascus and Moscow denied these accusations, saying that there was no incident at all in the Duma about the use of toxic substances, and all the reports about this were another fake.