Statements from macroeconomics experts are published on what to expect in the future from the ruble exchange rate in relation to foreign currencies - primarily to the dollar and the euro. Alpari Senior Analyst Anna Bodrova for
"Vesti.Ekonomika"
declares that the fall of the ruble at this stage is the bottom, and it is located at 66,5 rubles per dollar and 79 rubles per euro.
It is noted that a further fall in the ruble exchange rate, which analysts associate with the introduction of US sanctions against a number of Russian businessmen and 15 Russian public companies, is limited to relatively high oil prices. So far, the structure of the Russian economy is such that it is the cost of a barrel of oil in the 68-71 dollars area that "hinders" the dollar and the euro from delivering a more significant blow to the Russian currency.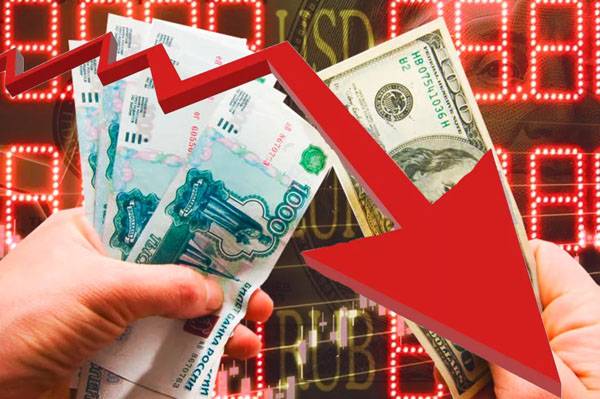 Other experts believe that the depreciation of the ruble does not occur without certain operations on the part of the Russian government. On the one hand, such statements may seem untenable, however, the experts' arguments force at least attention to these theses.
From the moment the Urals oil barrel overcame the 40 dollar barrier, the Russian government turned to currency purchases. In this case, since the beginning of 2017, the state monitored the oil and gas revenues of the year. To date, a balance has been achieved in which simultaneous increases in oil prices to 65-70 dollars per barrel of Brent crude and a depreciation of the ruble allow the cabinet to generate impressive revenues from petrodollar operations alone, contributing to the fulfillment of basic social obligations and more for later".
Moreover, the sharp fall in the ruble and the sinking of the entire market of investors, who first began to "run" from the market, "moved" in the opposite direction. So, today, against the background of yesterday's sharp peak, all the main sectors of the Russian economy have gone up: from chemical and petrochemical (+ 3,56%) to telecommunications (+ 2,9%) and metallurgical (+ 5,3%). The MICEX index added almost 4% and again climbed to the 2,1 mark thousand points.