The month was going with the spirit to write his opinion about what he saw. Not that the words were not chosen, just everything is fine with the words. All the same, by the way.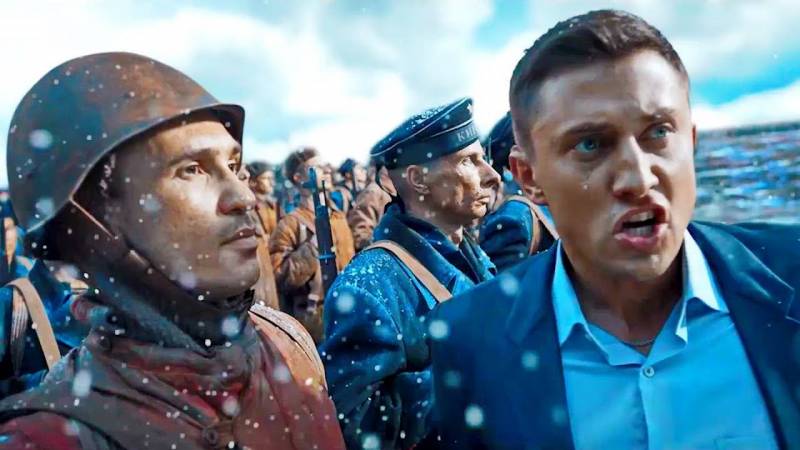 As God forbid, I would recommend to watch this film, and not to be caught in advertising, now, after the demonstration is over, you can talk.
What first showed this movie?
"Frontier" showed a crisis. All the same continuing to rage crisis writers and directors who are not capable of creating films. So nothing new.
The idea of ​​the film is not bad. The idea is to show the war (okay, try to show the war again) and somehow remind you that not only May 9 should honor it.
Perhaps this is all good ends. And, no, perhaps, there is another positive component. Cost Total 300 million rubles.
What did not like. Plot. It is not that crumpled, rather, illogical and unfinished. It is clear that Shevtsov wanted to repeat "We are from the future," as one of our directors is now shooting in different guises a film about a company of soldiers.
Did not work.
In general, after watching, I had only one question: my dears, did you really want to take something off?
"We are from the future-3"? No, there is no such immersion in the past. "28 Panfilov" screw up? It doesn't look like that either. No, thank God, not "Citadel" and not "Stalingrad"! In principle - already a huge plus.
Here I am "28 Panfilov" once praised, although many have criticized the film. Say, there was not enough emotion, the story line is straight, like scrap and in general, just one moment "from life" is shown.
Sorry, in "Hot Snow" also showed one moment. The question here is how ...
Emotions ... I didn't see any emotions at all in the "Frontier". The plot is not limping, but with shot through legs I saw, but emotions ...
To be honest, I was haunted by the feeling of some kind of "ordering". We have a lot of things removed. Previously, with the milkmaids and machine operators, now with businessmen and presidents. The essence is not important, the approach is important.
The approach here is felt. It was necessary to make a film on a given topic. High moral and spiritual.
But it does not work, even though you beat them with your butt! Re-shoot is possible. "Crew" there or "Star" as an example. For real-life events, we can glow! Salyut-7, Upward Movement. And even to lie no more than half.
But on the "Frontier" it becomes clear what to think up / write / create by yourself - this is already in any way. And it is noticeable that neither the script writer nor the director believes in what they are filming. That Mikhalkov in the "Citadel" believed that it was so. And because it is unscientific but fantastic film masterpiece looks convincing. And not here.
Maybe because I have met such "Shurovs" in the life of the shaft, and that I'm not so penetrated? And first of all, I myself do not believe in what can be?
The idea of ​​the film is as simple as a Mosin rifle. And simply must be the same punch in the brain and slaughter. Show and prove that you need to remember your ancestors who fought in that war. Be proud of them, and not only on Victory Day.
Yes, Christmas trees, sticks, I'm so proud of them! And many of us are proud! Frankly, honestly, with conviction. We do not need such a cheater. Phantasmagoria with a trendy pop-up.
"Hitchers" - this is already a whole flow in science fiction, because of how they get into others from different times. Fashionable, yes.
I do not remember where I saw / heard, but the man said great: this is a film for Kolya from the Bundestag.
But even for Kolya sucks worked out. Not on 300 million. Kohl, he watering the Germans with tears. He is just the future Shurov - moderately stupid, moderately cynic, moderately boor. And he does not care about everything except the numbers on the bank account.
It did not leave the feeling that I myself fall into the light of Soviet times. And I look something like that, from my childhood. Filmed "on request" of the Komsomol Central Committee. And on the head with two hammers, I'm kukudyamyat: you must remember, you must respect, you must honor, you must ...
What should I do? I respect as much as I can and I can. And as I can, then I can, respectively.
Or to respect the team, famously gash "Kintso about the war"? Well, respect. What is not a billion spent. True, I respect.
But I don't want to respect the work. Uninteresting movie out. Totally uninteresting. When in "Panfilovtsy" from the flank the machine gun on the Germans began to work, crawled jerked and exhaled. For - played. And before - invented.
And here really - the line. And beyond this line are the mediocre monologues of the main character, ineptly performed by Priluchny. And exhale when he finishes off.
Well, at least it looks like a major, and that's fine.
True, it is worthwhile to say a couple of words on the subject of what kind of film. Unlike "We are from the future," this is a completely different creation. This is a film-watching. The main character does not participate in the events, he does not change anything, because he simply cannot change anything, he is an observer. And it can only change itself. Understand, accept, rethink ...
As for me, so absolutely GG has not changed. How was ***, and remained to them.
In general, another attempt that clearly speaks of torture. Not the agony of creativity, in which masterpieces are born, but torture in mastering means and attempts to create at least something from nothing.
No, that will not work. Zero what it does not multiply, zero will remain. Here we must believe in what you shoot and write.
I leave the creation of Shevtsov and Tyurin without evaluation. There is nothing to evaluate in this film. Nothing but well-chosen newsreel frames. Another dullness, unfortunately.
So ... For home viewing, downloading from the Internet. And no chance of reuse.
But if you measure the misery of the type of "Stalingrad" - 0,5 will be. To live, in principle, it is possible. Watch too. But bright thoughts about the prospects in our cinema do not cast all this for some reason.