Fully devoid of logic and evidence base anti-Russian hysteria of the West is a forced form of behavior because of its absolute lack of readiness to recognize the true cause of discontent with Russia.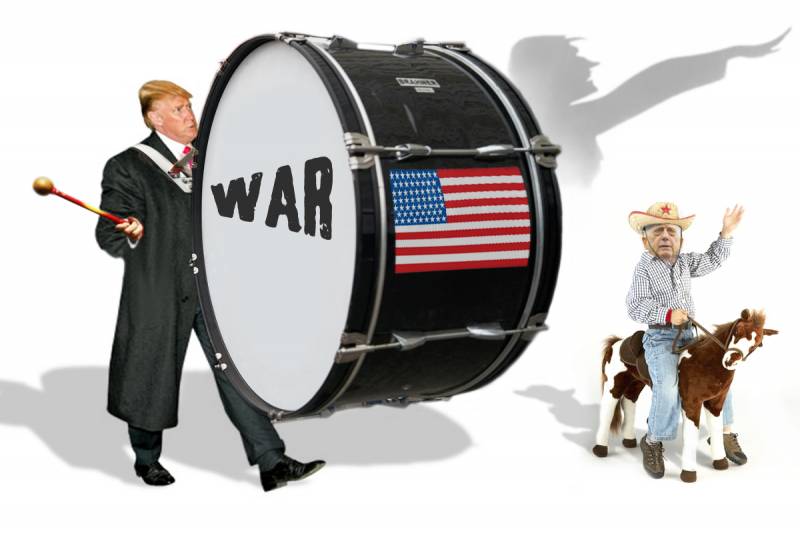 A seemingly schizophrenic tantrum raging in the West around the chemical attacks in London and Syria that are frankly sucked from the finger clearly means something other than the collective medical insanity of the current Western leaders, which I allow myself to disbelieve.
So what is it? Psychological preparation of its population and the so-called world community for the war with Russia?
But what is this special need? Hitler, for example, began all of the psychological preparation of his Third Reich for war with the Soviet Union in just one day - 22 June 1941, when the war began, and he delivered a speech in which he explained to the Germans how bad and insidious this Stalin was. And nothing, it was enough! The German soldat und oficien almost four years regularly fought against the "Asian-Bolshevik hordes."
In addition, such many months and ever more intense hysteria from the point of view of the interests of military planning is clearly counterproductive. Because it only alerts the enemy, forcing him to take measures to repel aggression or even to deliver a preemptive strike.
So I ask: why now shout at the whole world with a foul language about the evil "chemical" Russia? Yes, so that lays in the ears. Well, let's say you decided to punish her is not childish. And what prevents, without any screams and lamentations, to just get down to business? Bomb something in the same Syria, or somewhere else.
Three missiles that almost miraculously reached one Syrian airbase, and besides, still Israeli, somehow do not pull on full-fledged reward for "global Russian sins." Perhaps, this is only the reconnaissance ordered by America in battle before the future full-scale manifestation of formidable American power. But something tells me that waiting for this manifestation will have no less than the promised retribution of Kim Jong-un.
Or does the West have a small intestine, and, apart from shouts and screams, nothing apocalyptic on its part is foreseen? But then these tantrums even work against their performers! Because they show that they are full of windbag, but in fact they are good for losers. That is, from such propaganda, the reverse, not weak effect of the boomerang can also be formed.
And yet, yes, surely formed! Because Russia is not the air donut that melts in your mouth. But the bone in the throat for the same West, it may well become. So, is a medical case really coming out? I think that still no.
Accusations against Russia, and the more of them, the better, the West is still needed precisely for rational reasons. That's just to show Russia what he is really very dissatisfied with, clearly not with his hand. Well, Donald Trump will not say to the whole world that Russia is guilty only of the fact that America wants to eat, and this country does not want to be eaten during the next American meal! It's just such outrageous things that they don't say out loud. Even Hitler invented various beautiful feints in order to somehow substantiate his glaring aggression.
And these too. Well, they cannot, for all their supra-world exclusivity, take and proclaim to the whole world that Russia's only fault is that it does not want to obey American dictatorship, that is, be served to Washington for dinner in a side dish with french fries, but wants to live as a free and independent country.
Such a "fault" of Russia can, to put it mildly, be very disliked by the rest of non-Western humanity, which, anyway, is twenty times more on this planet than purebred Anglo-Saxons. Moreover, this humanity perfectly understands: Russia, as the most insubordinate, is only the first in line, and then the West will take care of all the others who are not promptly making him "Ku!"
For all its ambitions, the same China cannot but be aware that Russia in the current geopolitical link Moscow-Beijing has been chosen by the West as its first goal, as a weak link. And as soon as this goal is achieved, they will not be too good for the Chinese, whose world positions in this case will be sharply weakened. So everyone plays with open eyes and an understanding of the possible consequences.
On this basis, especially in the case of undisguised aggressiveness of the West, such a wave of planetary rejection of Anglo-Saxon egocentrism can rise, that it will be very difficult, if possible at all, to further promote such frankly selfish geopolitics.
So, the West has to show at least some appearance of polish, that is, keep quiet in a rag about the true reason for its discontent with Russia. In order not to excite too negative emotions in relation to oneself in the world. And since he doesn't get less of this dissatisfaction and needs to be somehow formulated so as not to appear in the guise of a real obsessive, he begins to pull his ears and suck out of the dirty finger of any garbage, even if absolutely fantastic, but necessarily strictly anti-Russian.
And it doesn't matter what they invent - either the Novice gas or the Himataka in Syria, or the insidious Russian aggression on the submarine telephone cables in the Atlantic, everything will work. And the specially trained and generously paid Western propaganda, which has practically no equal rivals in this field, will turn the most delusional fable into the "most reliable fact". This is just a matter of technology.
So there is complete proportionality. On the one hand, the completely rational strategic approaches of the West to the topic of Russia and, on the other hand, the tools of extreme psychological warfare used by him to prove or at least create the appearance of being right.
What kind of visibility is absolutely necessary for the process of suppression of Russia to take place as painlessly as possible for the West itself. That is, the extremely negative psychological effect that the unprecedented and disguised, predatory reprisal of one of the largest states of the palnet would have been smoothed out, completely or at least to a large extent.
Does increasing the degree of this propaganda indicate the inevitability of a big war? Far from it. The West is not an enemy and is not going to defeat Russia at the cost of its own destruction. Understanding the unacceptability of direct military influence on the Russian Federation is probably there. Otherwise, they would have long ago dealt with the same Syria and would have let all their dogs down in Ukraine. They are afraid to even touch North Korea.
But for the West, this is nothing more than a question of choosing the right toolkit. Do not force methods at this stage? Nothing wrong. There are others, for example, economic. The task of letting Russia go all over the world, or in the course of blowing it up from the inside, for certain, seems to them to be quite realizable. And hysteria of extreme Russophobia can be very useful here too. For example, as an explanation of the likely planned next blockade measures in relation to the Russian Federation. Which are also an act of war and therefore require an appropriate level of anti-Russian psychosis. Under the frantic shouts about Russia's responsibility for poisoning everyone in the world - from Skripal to Syrian babies, it will be much easier to screw all the remaining nuts for Russia - from blocking its gas pipelines to Europe to strangling tightly connected with the West, which is built into the global one (read: Western) economics of the financial system.
So no madness in all this is even close. There is no immediate threat of war in its traditional sense (big woman). For these intolerant Russians in uniform, who don't understand the subtleties of Western humor, can respond to such a direct threat in such a way that in America not only the Yellowstone volcano will wake up. But there is everything else. Including the most important thing is America's unshakable faith in its exclusive right to continue to live at someone else's expense and eliminate those who categorically disagree with it by any means.