Turkish planes were spotted in the sky over the city of Ain Issa in the north of the Rakka province. Around 50, French Army troops arrived in Manbidge to help the Kurds. Reports about it
FAN
with reference to Syrian sources.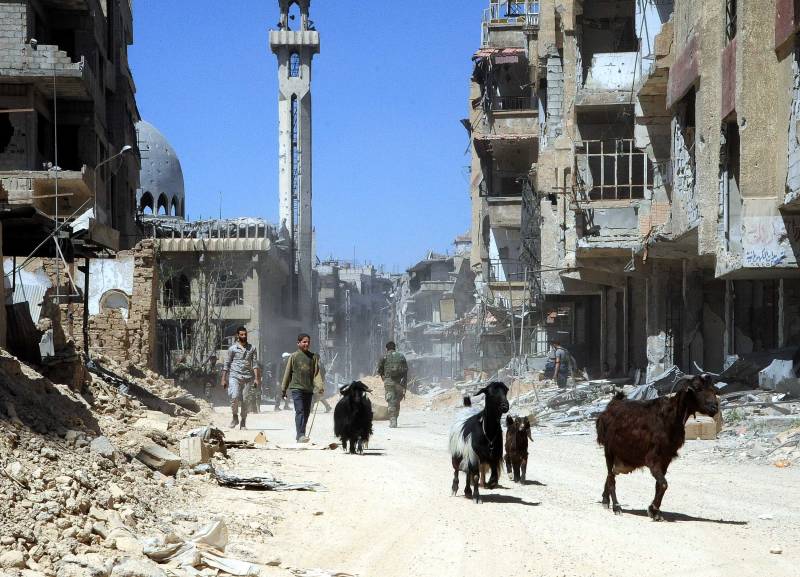 In Eastern Gute, the evacuation of radicals from the city of Duma to the north of the province of Aleppo - to Jarablus continues. Militants leave the enclave through a special passage in the area of ​​the camp of Al-Wafedin. Meanwhile, the Russian Center for the Reconciliation of the Parties and the Syrian leadership have begun negotiations with armed groups based in the Babbil, Beit Sahm and Yalda areas in the south of Damascus. If the radicals refuse to capitulate, the government army will start clearing these territories immediately after the liquidation of the Islamic State enclave (* IG, the group is prohibited in the Russian Federation), which is a little to the west.
The situation in the northeast of Aleppo is becoming more intense. Near the 50 French troops arrived in the Manbija area. The unit entered the UAR through the border checkpoint near the Syrian Democratic Forces (SDF) -controlled Tal Abyad town, located in the north of neighboring Raqqa. Earlier, French President Emmanuel Macron intends to send troops to the north of the SAR to help the Kurdish armed forces.
In the western part of the province of Dar'a, all the past 24 hours was restless. First, internecine clashes of individual detachments of the Syrian Free Army (FSA) took place in the region. Later, the situation on the line of demarcation of the forces of the IG and the Free Army in the vicinity of the front-line cities of Gillen, Bakkar Al-Gharbi and Hait sharply worsened. However, there were no significant changes in the situation in this area.
The Turkish Air Force aircraft several times over the past day have been seen above the strong points of the Kurdish fighters of the Popular Self-Defense Detachments (YPG) near the former 93 base of the CAA brigade located in the vicinity of the town of Ain Issa in the north of the Raqqa province. Information about the objectives or results of departure has been reported. Recall that last month the liberation of the canton of Afrin was completed, and now the Turks are preparing to launch an anti-Kurd operation in the Manbij area and in Rakka.
Clashes between government forces and Islamists continued near the northeastern margin of the Rastan boiler (Hama province). In the morning, terrorists bombarded Salamia and Kabbat al-Qurdi settlements and Taxis, controlled by Damascus. At the same time, opposition media claimed that as a result of one of the blows, the SAA "Gvozdika" CAA was damaged. Later, the servicemen fired back at the targets of the Islamist formations in the vicinity of the settlements of Tulul Al-Hamr and Izz Ald-Din.