There is a new version of the causes of fire in the shopping and entertainment complex "Winter Cherry" in Kemerovo. We will remind that earlier in the Ministry of Emergency Situations declared an arson in the "dry pool" as the main version of the cause of the tragedy. The Investigative Committee of the Russian Federation has other interim conclusions.
After a trip to Kemerovo by the head of the TFR, Alexander Bastrykin, a video was published on the official website of the department, which stated that the investigators had found high-voltage wires passing directly above the children's playroom.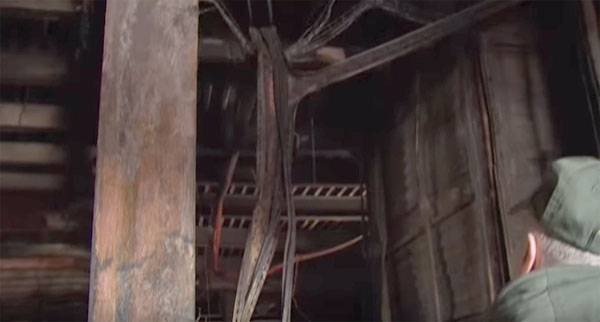 As noted in the TFR, these wires, in violation of all electrical and fire safety standards, in transit went through the trampoline hall. Alexander Bastrykin was told that, presumably, a short circuit in this electrical circuit could lead to the appearance of sparks above the reservoir for the foam cubes of the "dry pool". This, according to the investigation, led to a fire.
It is also added that the cause of death of the majority of the dead was carbon monoxide poisoning. The main number of victims of the tragedy was found at the very door of the cinema hall, which was closed so that the fire did not penetrate inside. In this case, the TFR noted that the other door of the cinema was not closed. Probably, people could no longer leave the hall through it, since by that moment a fire was raging in the corridor.
From the movie TFR:
According to one of the versions, adults and children who watched the cartoon in this cinema hall shut up all the gaps from the smoke and waited for them to be rescued. That is what all instructions are recommended to do. But it was the waiters of the rescuers that turned out to be death for them.
Recall that on the eve of the MASH Telegram channel, data from CCTV cameras was published, which showed that the first fire brigade arrived at the burning shopping mall 15 minutes after the first call to the rescue service, and evacuation of people from the roof of the building began only 1,5 hours later .
Video from the UK IC: