One of the conditions for the introduction of UN peacekeepers in the Donbass is a cease-fire in the region,
RIA News
statement by the President of Ukraine Petro Poroshenko.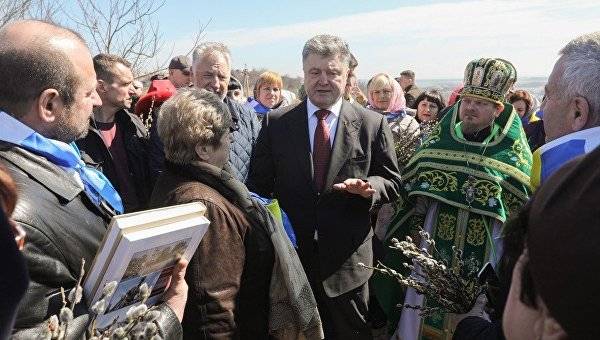 On Friday in the east of the republic, the next "Easter" truce came into force. However, in less than three days the parties have repeatedly accused each other of shelling.
We need this truce like air. Because a truce is a condition under which we can conduct a special peacekeeping mission in accordance with the decision of the United Nations Security Council, so that peacekeepers come to all the occupied territories,
President said at a meeting with residents of Volnovakhi in the Donbass.
He also said that Kiev would return the uncontrolled territories of Donbass peacefully. Poroshenko urged the military to adhere to the terms of the truce, but in critical situations "do not spare the ammunition."
I expect that this time Russia will adhere to the cease-fire regime. Moscow has no faith. But no one deprives the Ukrainian soldiers of the right by order of the commanders to give a fitting rebuff to the provocations of the enemy. Moreover, it is their duty. And the current ceasefire is no exception. Stick to it, but be alert, and in critical situations do not regret the ammo,
said the Ukrainian leader.
Recall, Vladimir Putin supported the idea of ​​bringing peacekeepers into the Donbass, but this can only be a safety function of the OSCE staff. In Kiev, however, they believe that the UN mission should have a broader mandate and be located throughout the territory of Donbass right up to the border with Russia.