Work to improve relations between Washington and Moscow will continue even after the closure of the United States Consulate General in St. Petersburg, reports
RIA News
Statement by the US Embassy in Russia.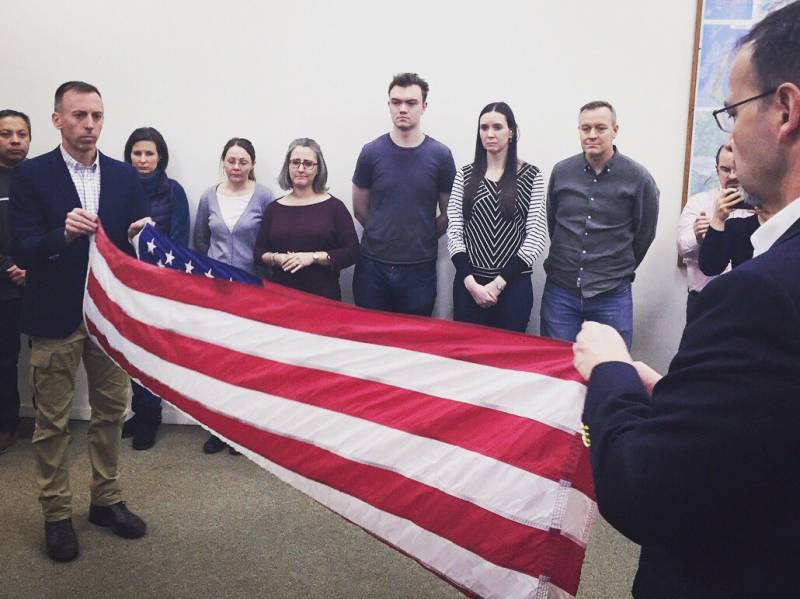 "Yesterday, the deputy head of the US mission to the Russian Federation, Anthony Godfrey, the US Consul General in St. Petersburg, Thomas Leary, and the consulate staff last pulled the US flag out of the building on Furshtatskaya Street in St. Petersburg," wrote American diplomats on Twitter.
Now the consulate is closed, but our work continues to improve US-Russian relations,
added to the US embassy.
Recall that 26 in March, Washington, in solidarity with London, demanded that 60 Russian diplomats, including 12 members of the Russian mission to the UN, leave the country and also close the consulate general of the Russian Federation in Seattle.
After that, the Russian Foreign Ministry reported that "based on the principle of reciprocity, in response, 58 embassy staff in Moscow and two consulate workers in Yekaterinburg were declared persona non grata for activities incompatible with diplomatic status." In addition, the Russian authorities have closed the US Consulate General in St. Petersburg.