The Ukrainian edition of Fakty.ua publishes material on how employees of the Ukrainian military registration and enlistment offices work in order to hand over the agendas to draftees. In particular, it is reported that outsiders are invited to distribute the summons, who conclude a special agreement with the military commissariats. Such persons are often unemployed "ATO veterans", acting as a kind of collectors: trying to deliver young Ukrainians to military registration and enlistment offices with threats and force. At the same time, the activity of such people in Ukraine is not regulated by law.
One of these "veterans of the ATO" (his name is Alexander Rafalsky) in the Kiev region decided to intensify the work and even his own spouse was involved in the distribution of agendas. In response to the attempt to serve the agenda of the 19-year-old young man, the lady heard the following in her address:
Forget the road here. Or I'll break your legs.
Of
material
:
I said that I would file an appropriate act, and the police would deal with it. Two days later, this man attacked my husband. Both he and his accomplices knew who they were beating. (...) Running up to him, they shouted something like: "Listen, you, atoshnik ..."Then hit. The husband fell, and they began to beat him down. (...) They were not even arrested! (...) After the trial, someone knocked on our door and ran away. Then someone jerked the handle of the door - and also disappeared. I'm scared. She wrote a statement to the police, but they did not accept him there.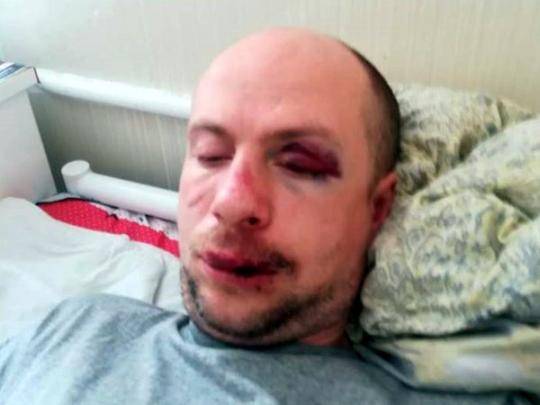 These facts speak about the real relations of the Ukrainian population to those who call themselves "the hero of the ATO", as well as about how "effectively" work is progressing in the format of a new wave of mobilization.