Chairman of the Council of the Federation Committee on Defense and Security Viktor Bondarev held a briefing with the military attaches of foreign countries accredited to Russia. More than 100 representatives from 57 countries of the world took part in it: including Germany, Austria, USA, Belgium, France, Sweden, Turkey, Japan, China, India, North and South Korea, the press service of the Federation Council reported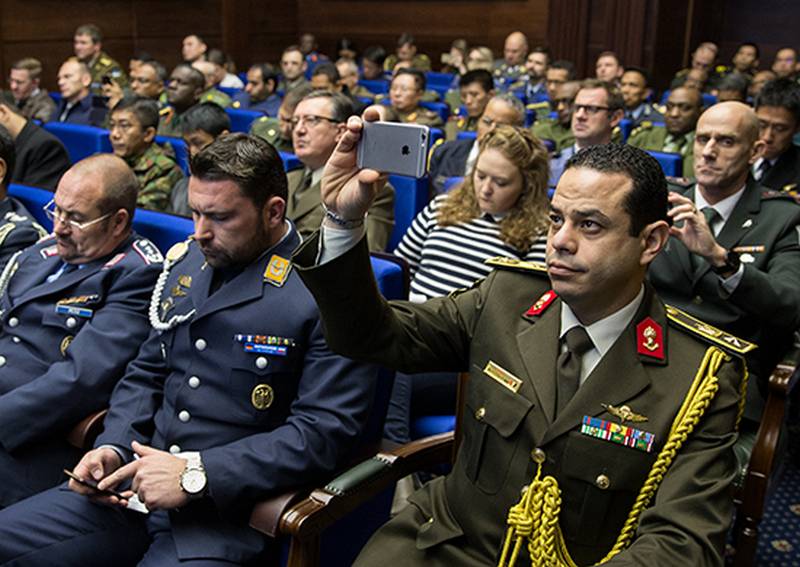 Bondarev spoke about the functions and structure of the Committee he heads, presented information about his work in 2017, as well as the position of the Committee on topical political-military issues. The event was also attended by the first deputy heads of the Committee - Alexander Rakitin and Yevgeny Serebrennikov.
In 2017, the Federation Council Committee on Defense and Security built its work under the banner of combating international terrorism in order to strengthen the country's defense, ensure public safety, enhance Russia's international prestige and protect our national values
- leads the press service of the word senator.
He noted that the key focus of the Committee's activity is legislative support of the strategic national priority - the defense of the country. Bondarev pointed out that following the meetings at the National Center for Defense Management, members submitted six draft federal laws to the State Duma.
Legislative initiatives have been developed to increase combat and mobilization readiness, as well as to improve the medical support of the Armed Forces and military personnel in the context of combat missions.
- pointed out the senator.
He noted that last year the Committee also paid close attention to the monitoring of law enforcement practices in the field of national security.
Viktor Bondarev stressed Russia's commitment to all international obligations, including under the INF Treaty and the Open Skies Treaty.
After the speech, Bondarev, Rakitin and Serebrennikov answered the questions of the military attaches, concerning, in particular, security during the World Cup, strengthening security and cooperation in Europe and the Arctic, the work of the UN mission in Ukraine.
Also, Viktor Bondarev presented a memorable souvenir of the Federation Council to the elder of the military diplomatic corps - the representative of Switzerland Bruno Russi. After that, all the participants in the meeting in the foyer of the first floor of the Federation Council took a joint photo.