The day before, the American ambassador, John Huntsman, finally dispelled the illusion that Russian funds could and should be stored abroad, since it is "profitable and secure." According to Huntsman, he personally does not exclude the possibility of the seizure of Russian assets in the United States of America. This is a plus to the fact that Russia already, excuse me, has wrung out diplomatic property, that according to all legal norms a definition of raider seizure at the state level can be worn?
The speech in the statement of the American ambassador was primarily about the Russian diplomatic property, although everyone was well aware of the possible presence of the United States and much more "Napoleon" plans for Russian assets. And these Russian assets contained in foreign currency, which is actually equivalent to the presence of Russian reserves under the Fed cap, by domestic standards are definitely not enough. We are talking about tens of billions of dollars that the United States, in principle, can "grab" at any time, guided by the classic arguments of the "new package of anti-Russian sanctions" series.
In this regard, it is difficult to respond with a definite positive message that the international reserves of Russia (MPD) by mid-March (16 number) rose to a record 3,5 billion dollars in the last year 455,4. Last week alone, MPP added $ 2,4 billion in weight. By comparison, before the economic crisis in 2008, Russia's international reserves were almost 600 billion (598), and the minimum minimum was observed in March, 2009, when MPR fell to $ 376 billion.
Why is it difficult to react to this information with an unambiguous positive? Because the lion's share of Russian reserves is stored not only in gold, which, it seems, is "in one's own", but also in a whole range of foreign currencies, including the aforementioned dollar. And first of all it is in dollars.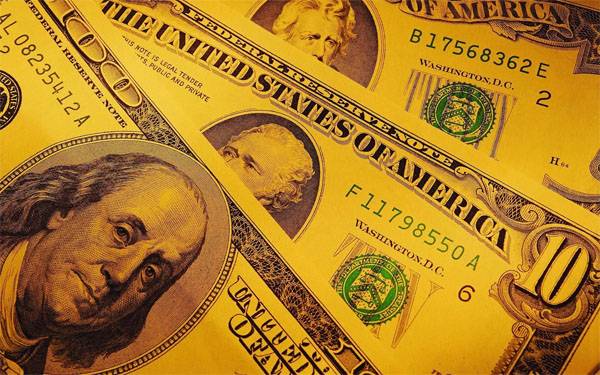 Purely economically, everything seems to be more or less efficiently ... The Ministry of Finance conducted a series of operations, the result of which was a certain profit. Currencies showed growth, and, accordingly, the reserve part, too. However, even here it is not everywhere. Thus, the closing of the Eurobond deal in the amount of $ 4 billion brought 3,2 billion in revenue, but all these proceeds immediately had to be used to repurchase previously issued securities (debentures), which in the end practically did not change the total amount of the RF gold reserves.
And in modern conditions, economic laws have received more than a significant coefficient of political amendment. This is a "coefficient", which actually shows how politically insolent one can be with respect to one or another competitor on the world market, so that issues of any kind of competition can be resolved through overt restrictions (sanctions). And who in this world bothers more and more to others, once again, to mention, I think, to nothing - it is understandable and without reminders.
So what is the structure of Russian reserves? According to statistics, at the beginning of 2018, the share of Russian gold and foreign currency assets denominated in US dollars was almost 47%. In euro - 25%. The British pound sterling accounts for about 8%, the Canadian dollar - a little more than 3%, the Australian dollar - 1%. The Chinese yuan is "trusted" by 0,1% of the total reserve. The rest is gold, whose share in recent years has gained weight. In other words, the reserves of the Russian Federation in dollars are almost three times more than the reserves in the precious metal.
Translating into absolute numbers, you can get that in the dollar mass of Russia today already holds more than 200 billion dollars. True, who exactly "holds" these funds is a separate question. And when they say that this is a kind of payment from Russia to the United States, then, at first glance, this is an absurd statement, today it does not look so ridiculous.
Now the question is: will the United States allow itself to freeze Russian (at least dollar) assets? Still, it's about 200 billions of gray-green.
They can allow it, but in reality - why does Washington need such a "freeze"? After all, if Russia could actually dispose of these funds (well, or even more "tangible" - the Russian people), then the American partners would have long ago frozen Russia's financial "assets" produced, well, or at least not together, but partially ... But even Against the background of truly transcendental hysteria, there is no hint, except for Huntsman's statement on diplomatic property, from the US
They are plagued by vague doubts: they are not talking about the freezing of Russian dollar assets in the States for one reason only - for a long time Russia has not been able to independently dispose of these assets. Something from a series of German gold reserves, which has been stored for decades in the United States. De jure - on "storage", de facto, there is a version of experts that this German gold has not been in nature for a long time, well, or, even if something is left of it, it's definitely not for the Germans to dispose of it.
Why, then, talk about freezing assets in the form of diplomatic property? And because this property actually belongs to the Russian Federation, and the Russian Federation is still free to dispose of it at its discretion.
Another issue is that all new Russian receipts (from the state or individual money bags) into the American economy may well turn out to be "attached to the case." The reason will be found as a recent example with Kazakhstan, when Nursultan Abishevich had to urgently fly to an audience with Trump. There it was, like, about 22 billions of dollars. The essence and the result of the negotiations is still under a veil of fog. Who now has these 22 billion is a big "Kazakhstan" question. Or not Kazakhstani ...
In general, the well-known phrase "Keep money in the savings bank" has played up to our time with new colors, especially in relation to those who have something to keep ... Here's just one caveat: this "savings bank" would not work exactly on behalf of and on behalf of the Fed.