Information Agency
Interfax
referring to the Al-Jarida Kuwaiti portal (Aljarida) publishes, to put it mildly, a strange statement. It contains information that the American F-35 fighter jets of the Israeli Air Force allegedly flew through Syria and Iraq's airspace and reached Iran's airspace. At the same time, it was added that the Russian air defense systems didn't notice them either on the Syrian or on the Iranian territory.
From the material:
Two of the newest F-35 fighters made a flight in the airspace of Syria and Iraq, entering the airspace of Iran. There they conducted aerial reconnaissance in areas of the cities of Bandar Abbas, Isfahan and Shiraz. At the same time they were not noticed by air defense weapons.
It is worth parsing this publication in more detail.
It is known that the range of flight F-35A is 2,2 thousand km, and F-35С - 2,52 thousand km. In the armament of the Israeli Air Force are F-35A.
Even if we take into account that the F-35 pair flew strictly along straight sections of the route, its total length would only be "one way" 2,4 thousand km (the route Israel-Isfahan (Iran) -Shiraz (Iran) -Bender-Abbas ( Iran.) If we consider that there was also an entry into the airspace of Syria, the distance increases at least a kilometer on 200.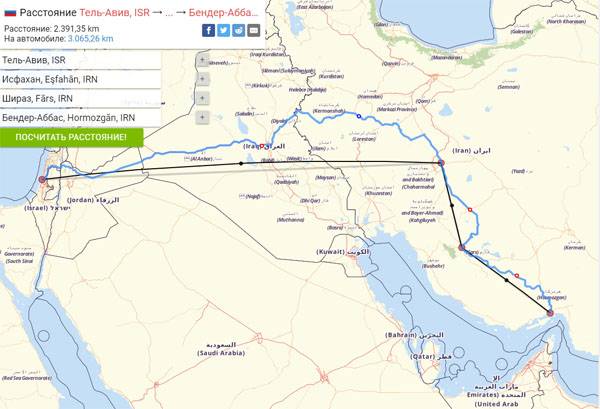 It turns out that somewhere in the area of ​​the Iranian province of Fars, airplane tankers were supposed to approach the fighters of the Israeli Air Force. Judging by the logic of the publication in the Kuwaiti press, air defense systems that are in Iran's arsenal "did not see" them either.
All this publication in the end looks like an attempt at information embedding aimed at justifying the acquisition of American F-35 by different countries of the world.