Only after 4 days in the Ministry of Foreign Affairs of Russia officially responded to the detention by the Ukrainian border guards of the Russian fishing vessel "Nord" with 10-th crew members on board. Recall that the Russian ship was escorted by Ukrainian coast guard ships to the port of Berdyansk on March 25. At the same time, the detention of "Nord" was carried out in international waters.
Russian Foreign Ministry spokeswoman Maria Zakharova said that Russia is demanding that Kiev immediately release the crew members of the fishing vessel and return the vessel to its rightful owner. Recall that the owner is the Kerch fish farm.
Maria Zakharova at the briefing:
There is another provocative antics of the Ukrainian authorities in relation to the citizens of Russia. In relation to the crew of the vessel, the Ukrainian border guards acted simply as Somali pirates. The crew had all the necessary documents for the implementation of fisheries in the waters of the Sea of ​​Azov and worked in strict accordance with current fishing regulations.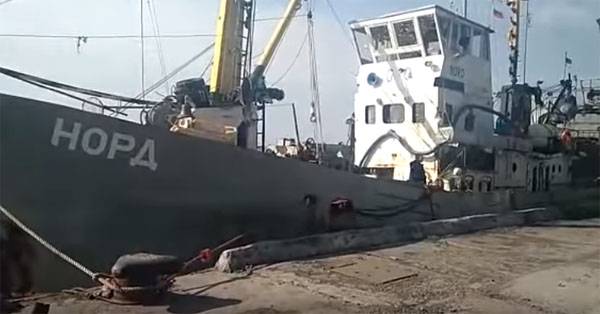 What prevented the Foreign Ministry from responding to the actual seizure of Russians hostage on the day of the seizure, to put it mildly, is not entirely clear.
Recall that earlier the FSB of the Republic of Crimea opened a criminal case under the article "Hijacking a ship of air or water transport or railway rolling stock".