Polish minister of defense Mariusz Blaščack and US ambassador to Poland Paul W. Jones signed a contract yesterday for the supply of the first two batteries of the American Patriot anti-aircraft missile systems in the PAC-3 + configuration to Poland, according to
bmpd
with reference to www.defence24.pl.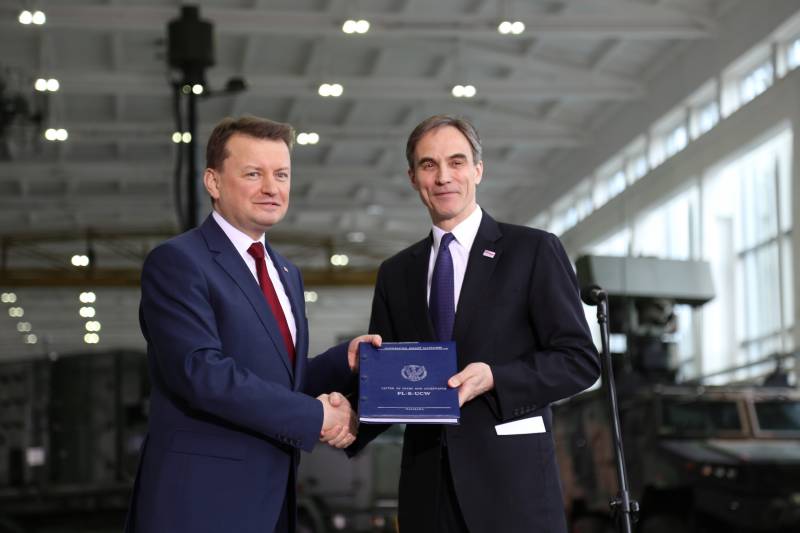 Polish National Defense Minister Mariusz Blašczczak and US Ambassador to Poland Paul W. Jones after signing a contract for the supply of the first two Patriot anti-aircraft missile systems to Poland in the PAC-3 + configuration. Warsaw, 28.03.2018
.
The transaction value was 4,75 billion dollars.
It is reported that "in fact, the two Patriot PAC-3 + ZRS batteries are made up of two" fire units "(Jednostki ogniowe) each, equivalent to the US standard batteries of this system, so Poland acquires four batteries according to American terminology.
The signed agreement includes "four AN / MPQ-65 radars, four battery control points, 16 launchers M903, 208 PAC-3 MSE, 11 MSE test missiles, six IBCS Engagement Operations Centers (EOC), 3 missiles Integrated Fire Control Network (IFCN) ICBS network kits, four EPP III field power stations and five multifunctional information terminals Multifunctional Information Distribution Systems / Low Volume Terminals (MIDS / LVT) Link 12 data transmission equipment. " There will also be provided "other equipment, personnel training and technical support services".
The contract must be fully completed before the end of 2022.
Poland also intends to integrate two domestically produced systems, the new P-18PL radar and the PET / PCL detection system, as means of detecting targets. Their release is planned to adjust at the enterprise PIT-Radwar.