Today is a national day of mourning in Russia. And on such a day it is difficult to stand aside, it is difficult to restrain emotions about the grief that literally fell upon compatriots in Kemerovo. The main questions are the same that tormented more than one generation: Who is to blame? and what to do?
To begin with, on the talk shows in which the same speakers on the topic of poisoned Skripale "revolve" every day, the same thought is sucked on all sides: how is it that the British authorities groundlessly accused Russia of poisoning? diplomats, without bothering to wait at least the preliminary stages of the investigation.
Experts in the studio, shouting over each other, declare that we need "an immediate response to the London lawlessness", offering all sorts of options, including a kind of "joking" on the air of TVC "There is a country - there is a problem, no country - there is no problem". Not only experts, but also ordinary citizens, are indignant, also demanding to "deal" with London. It seems that everything is explicable, but ...
Indeed, at the same time, many of those who are demanding "apologies" from Britain declare that they must immediately and strictly respond to Kemerovo's tragedy: from "dismiss everyone" to "put them on a stake." It is noteworthy that the investigation into a nightmarish incident with dozens of carried away human lives has just begun, and there is not only preliminary investigation data, but also the most important facts that would allow at least some intermediate conclusions. There are only scraps of evidence that often have nothing to do with reality.
And this does not prevent one hotheads from generating overt fakes, others blindly believing in them, and the third, on the basis of this black lie, also built on human sorrow, to demand "immediate executions." Clearly, the emotions of people are overwhelmed, but it is also clear that there are forces for which any tragedy in Russia is an extra reason for neoliberal fuss, for savoring each episode with some sort of medical shade with inner "inspiration".
Here are some of the most surprising in their filth fake publications, which in a certain sense excited a considerable percentage of users.
First
- prank from the Ukrainian Yevgeny Volnov, who, posing as an EMERCOM employee, called the morgues in Kemerovo and announced "more than 300 dead". Morgue workers were perplexed, horrified, but they had to take their word for it - after all, the CAM from the Emergencies Ministry was calling. Who is he and where, in such a situation, of course, no one has figured out. From here, I went for a walk and a fake that the dead were not 60, not 70 and not 100, but "more than three hundred".
The second
- "the officer's daughter", who, as we know, is not so simple, "saw" with her own eyes, as the Zimnyaya Chery shopping and entertainment center emergency services officers "store hundreds of corpses without taking them out of the building, as Tuleyev ordered everyone shut up. This "officer's daughter" decided that "more than three hundred" is no longer impressive, and therefore issued "more than 450". In this video shows photos from the Odessa House of Trade Unions. Of the hundreds of comments to this dirty fake, only a few users took a sober look at the situation, inquiring, and then the "daughter of the officer" used video footage that had nothing to do with Kemerovo? The videos are "links" to the husband of a friend's sister, father-in-law of the best school friend, who all, as one, report "a shortage of bags for corpses, unwilling bodies, hundreds of fresh graves at the cemetery".
People, come to your senses already! You are PEOPLE, and if the special mantra that the dead are "ten times more than the number of voiced figures," delivers some special pleasure, is it not a mental disorder? That is, if the death toll near 70, then this "little"? Is it necessary to heighten the resonance to be surrounded by other values ​​taken from the ceiling? Or if 70, then for "this is Putin's fault!" Is somehow not enough, and if "more than 300", will it work? So what? ..
Here, truly, God is a judge of these people ...
Now, in fact, to the tragedy itself. Something beyond that happened - dozens of people died, including children. They died in peacetime, at the weekend. The grief of relatives is immense. The death of children is terrible in itself.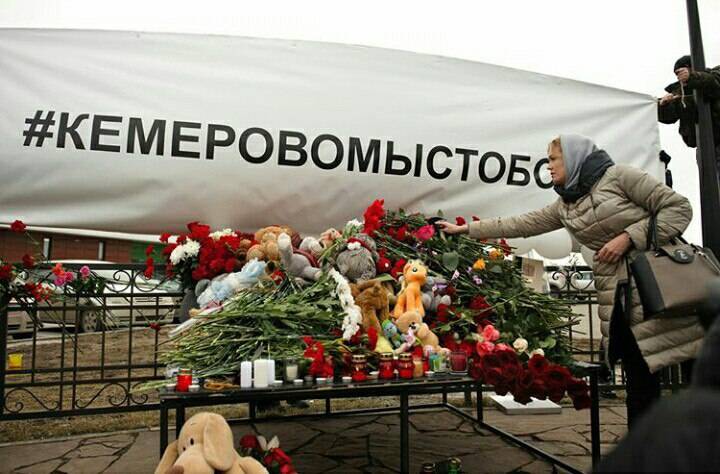 But it's also terrible that this is far from an isolated case in recent years. "Lame horse", a fire in a psycho-neurological boarding school in the village of Alfyorovka, Voronezh region, other nightmarish incidents with a large number of deaths in smoke and fire.
The cause of the onset of a fire is a ignited wiring from a short circuit, a non-extinguished cigarette butt, a random spark during technical or repair work (the investigation will figure it out) —in fact, by and large, it does not change. And this essence is that responsibility in our country, and this is hardly a secret for someone, is close to zero: from the janitor to the representative of the federal government. According to the pieces of paper, we always have everything in common: the janitor swept so many square meters of territory at the rate of man-metro-rubles; the head held so many meetings, of which visiting so many and so many. All the signatures in the papers are, the papers themselves are beautifully hemmed, put up in folders - check how much you will get. The task of some is to engage in fraud before the inspection bodies, the task of the inspection bodies is to "rub the glasses" on those who stand above them. And the task of the superiors is to become complacent in that what is written in the papers is what it really is. For go into details - who wants to, you can go to yourself ...
So it turns out that the fire alarm in the shopping center did not work for the reason that it should not have worked, because it was "reflashed" repeatedly, so that "it did not give out false signals". It is also quieter, but it is just because the fire brigade is trying to drive around the city ...
The ticket theater clerk could, according to the RF IC, lock the door so that adolescents without the ticket could not enter the session. After all, it depends on the number of free riders how much the owner of the cinema will deduct for the month.
The parking was forced so that people literally had to carry out the cars blocking the entrance for ambulance and fire brigades.
The doors of the emergency exits were blocked so that "no one was hurt."
Inspection of fire supervision in the shopping center "previously worked," but "did not reveal serious violations. And the truth is, and what kind of violations can there be, if the building of the end of 60's construction, which looks modern thanks to tons of plastic, was originally a factory, which clever people went bankrupt and purchased for commercial projects (an anthill) with huge super profits. Labyrinths of corridors in which, as eyewitnesses say, it is easy to get lost even in a normal situation, not to mention an emergency one.
Inspection at the end of last year, of course, reported to the officials about the inspection, saying that, even if there are violations, they, of course, are not critical - fire extinguishers are in place, fire hydrants too. But why there was no water in them, as well as specialists in the mall who could apply them at least for a while, now hardly anyone will answer.
The real owner himself is increasingly overseas. Well, not in the cold Kemerovo live for him, in fact. Money can be withdrawn across the border - without difficulty. Taxes in Russia? - Well, except with a minimum salary, because the business is "strangled with checks".
The mayor resigned, the governor resigned, all resigned ...
Only one question: is it different in other regions? Where to find those who have everything great not only on paper but also in practice? Yes, we have to confess, total irresponsibility in almost all directions. Pour asphalt into a puddle - and ... and so it will come down, then all the same money from the budget will be given - we will repair the "dry" road, but for now it is necessary to report to the end of the month. The bosses have a report - great! .. And the fact that the next day on the "repaired road" someone left the suspension doesn't care.
Instead of three bags of cement, the technology is possible and two - one more, one less - nothing to worry ...
Build a stadium (cosmodrome, hospital, kindergarten) in time? It's possible. But only there, how to say it, you need more 10 billions, so that you probably have time.
To come to work "after yesterday's" and take a nap in the corner - but what ... well, everyone will understand - the person went over a bit, is there any reason for a negative? ..
Go to the meeting room and discuss all the bills because the people elected you? It seems yes, but "we are not iron" - and if we are "in the regions" - let others discuss for us what kind of fire safety measures to take there, in which segment to toughen the punishment.
To defend national interests everywhere? As if yes, but international law says that it is necessary "to be suppressed", that we will answer the day after tomorrow, we are above it, what if they take and lift their sanctions ...
That's the problem. It is systemic. It cannot be solved by the appointment of a switchman, by landing from the series (to put it mildly) "on the back". It can not be solved by specific dismissal. This is something that requires constant, systematic work, without breaks, weekends and holidays. Without self-withdrawal and artificially lowering the responsibility of each in his workplace.
PS
After the tragedy in Kuzbass, unscheduled fire safety inspections began throughout the country. And this is another, sorry tradition. A little bit of that is a boiling up of controllers of all stripes, in order to demonstrate - they say, now we take everything under control for sure.
Prescriptions, fines, courts, dismissals. But it takes a year or two or three, and the trouble repeats. Unfortunately, the great ... And again there will be orders, dismissals, courts and, possibly, real terms. But will "Winter Cherry" be the last of its kind to be the embodiment of irresponsibility? - an open question.