While on a visit to Georgia, President of Belarus Alexander Lukashenko agreed to deepen trade and economic relations. During the meeting with Georgian Prime Minister Georgy Kvirikashvili, Lukashenko noted that the creation of joint Belarusian-Georgian enterprises could lead to the opening of new jobs in the two countries and establish productive cooperation in industry.
Alexander Lukashenko quotes the Belarusian news agency
BelTA
:
We agreed that we would not just trade, not just create joint ventures, but we agreed to teach people. We will do it more widely as you need it. You can sell equipment, bring technology here, but if local people do not have the competence to do just that, there are few prospects.
The agreements signed in Tbilisi, Lukashenko called "
historical
».
Lukashenko met with Georgian President Georgy Margvelashvili.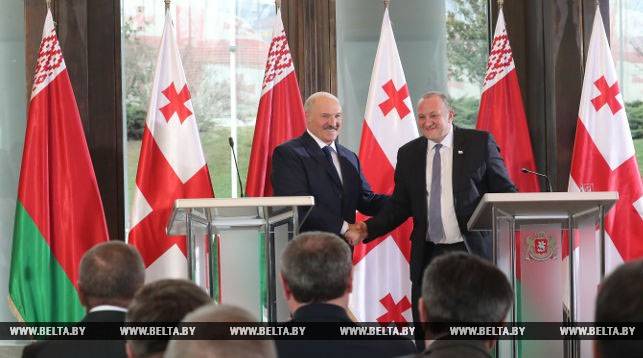 Agreements have been reached that Belarusian specialists will assist Georgia in the development of the agricultural sector, create research and production centers.
Not without mentioning in Tbilisi of the President of Russia Vladimir Putin. According to Lukashenka, Putin's "it's like a second wind".
Lukashenko - to Georgian journalists:
As for your relations - we touched both Georgia's and Russia's relations with the President and the Prime Minister. I'm sure if the Georgian leadership's will, Vladimir Putin, will solve this problem.