Russian Arctic divisions will receive bakeries, multicookers and warehouses based on all-terrain vehicles specially adapted to the conditions of the Arctic, according to
News
.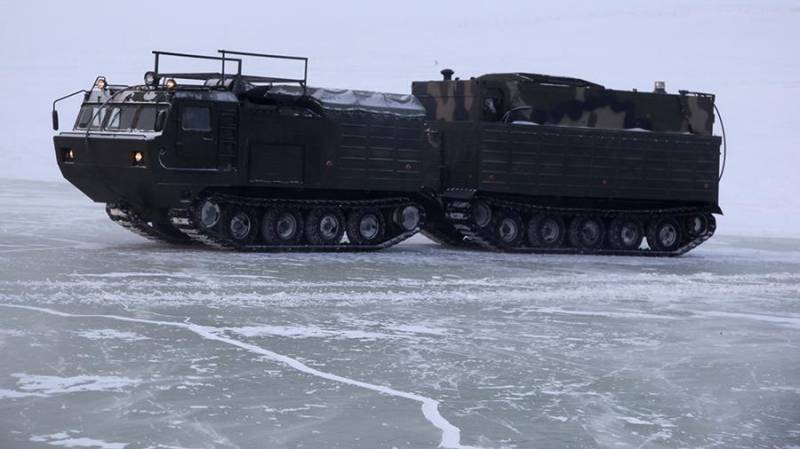 As the newspaper was told in the military, tests of the park of rear equipment for arctic conditions were completed at the end of last year, and in April of this year, serial production will begin to enter the troops.
It is reported that the first sets will arrive in the 80 th arctic motorized rifle brigade.
"All equipment is based on DT-30PM. This two-link tracked floating conveyor operates stably in difficult climatic conditions with extremely low temperatures and has a unique maneuverability. Thermally insulated heated enclosures allow use of equipment at temperatures ranging from minus 60 to plus 40 degrees. A diesel power plant with a capacity of up to 100 kW is included in the field kitchen and bakery, "the newspaper writes.
The main element of the rear set was the field kitchen. The crew of this car includes two drivers, as well as two chefs who can feed 250 people a day. And in a field bakery you can bake 700 kg of bread per day. The military will also receive a caterpillar fuel servicing truck capable of carrying 14 thousand liters of fuel and lubricants. Another device is the Arctic tank (10 thousand liters) for drinking water that does not freeze in the most severe frosts.
Previously, there were no large garrisons in the Arctic zone, so the issue of food supply was not the case here. Products were delivered to stationary warehouses by ships or airplanes, then food was delivered to the required place by helicopter. In the field it was not prepared. The nature of combat missions in the Arctic has changed dramatically with the arrival of ground units there. They have to make raids, patrol the area, go to landfills. The idea was to create all the necessary special vehicles on the basis of a single all-terrain chassis,
told military expert Alexey Khlopotov.