According to the Ukrainian media, the Cabinet of Ministers of Ukraine has established a new number of 2018 to be called up for urgent military service in the Armed Forces of Ukraine and the National Guard in April-May in the amount of 15,2 thousand. The decision was taken at a meeting on Wednesday, March 21, Ukrainian News reports.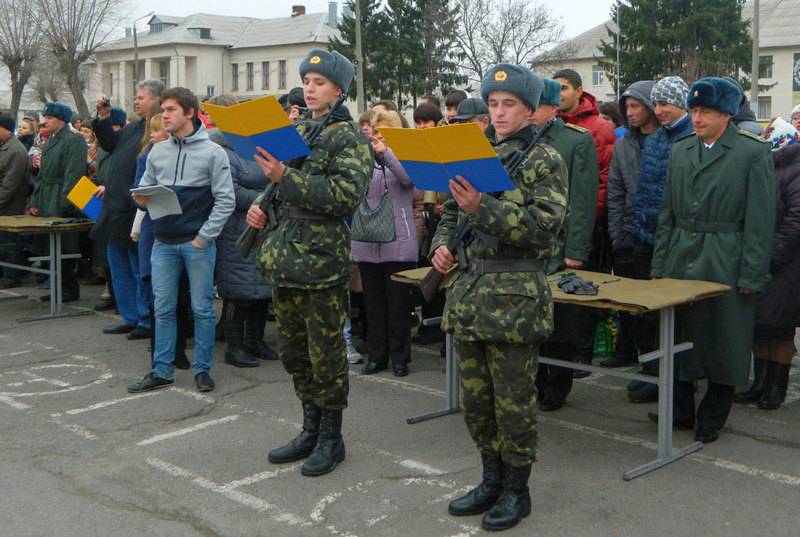 Of the total number of conscripts, it is planned to send 4 thousand to the National Guard, almost 9 thousand people to the Armed Forces of Ukraine, the Ukrainian media write where the rest of the 2,2 thousand conscripts will go or they were immediately identified as draft dodgers, unfortunately not reported.
The maximum number of recruits (1 520 people) is planned to be recruited in the Dnipropetrovsk region, and the minimum number (255 people) in the Transcarpathian. The cost of the call will be 54 million 944 thousand 294 hryvnia.
It is indicated that the expenditure on the 1 recruit will be 3 617 hryvnia 13 kopecks, of which 3 524 hryvnia will be used to pay cash assistance to the recruit.
Earlier in October-November 2017, the Cabinet of Ministers established the number of citizens who are to be called up for military service in the number of 10 460 people, but since the autumn draft was completely failed, it was decided to increase the number of draftees called up in the spring. Autumn conscription will take place in October - November 2018 of the year