The Swedish edition Aftonbladet named the Su-57 fighter, the T-14 tank and a nuclear-powered submarine drone the most promising Russian military developments. Reports about it
Rossiyskaya Gazeta
.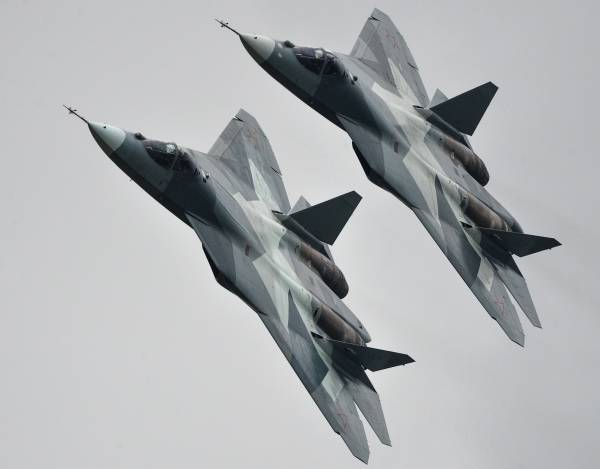 According to the head of the scientific department of the Swedish Institute of Total Defense Anders Bloom, Su-57 is "the best fighter that is produced in the world today."
He compared the new product with the American F-22 Raptor, the production of which was curtailed in 2011 year.
The T-50 (Su-57) is a fifth-generation fighter designed to be invisible to radars. It is in this respect that he may not be as good as the F-22, but he is still fantastically good. And in all other areas, as far as can be judged, it is not inferior to the American plane,
said the expert.
Among the advantages he called maneuverability, which is "provided by multi-vector nozzles" and makes the Su-57 "the best aircraft for melee air combat".
The expert also compared the Su-57 with the Saab JAS 39 Gripen.
The Gripen has fantastic maneuverability and incredible agility, but the T-50 is probably the best aircraft in the world purely aerodynamic,
he noted.
The T-14 tank was described by the Swedish edition as "the most armored monster that ever rolled on the ground".
Without exaggeration, "Armata" is the most outstanding revolutionary step in development
tank
designs for at least the last half century,
quoted by the author of the report from the British intelligence officers.
As one of the advantages of the tank is indicated on the 125-mm smoothbore gun 2A82-1M, capable of making 10-12 shots per minute.
The edition considers as the most innovative element of the tank an active defense, "with the help of which the machine can detect approaching anti-tank missiles and shoot them down automatically." This system, the article says, "can make a whole generation of anti-tank complexes, including the American Javelin, absolutely useless."
The Russian edition of the underwater unmanned vehicle called the "fully autonomous underwater torpedo with nuclear warheads."
The authors noted that this device "can produce an explosion that will not only destroy coastal settlements, but also cover large territories with a radioactive wave."
It is particularly noted that most of the information on this latest development has not yet been officially confirmed.
Also casually mentioned is the Avangard complex with a hypersonic planning winged block, about which everything from the same President's message to the Federal Assembly became known.