More than four years ago, a coup d'état in Ukraine became the starting point for the gradual disintegration of this post-Soviet state. Ukraine is a political entity that emerged within the framework of the Soviet Union and during the first half to mid-twentieth century included a number of lands that could hardly ever have become "Ukrainian" if not for the policy of Moscow. First, the lands of Novorossia were included in the Ukrainian SSR, then in Transcarpathia, Northern Bukovina and Southern Bessarabia, then the Crimean peninsula.
Meanwhile, a number of territories that are today part of Ukraine is a long-time object of territorial claims from neighboring states. 16 March 2014, the Crimea was reunited with Russia, the Donetsk and Lugansk regions could not exist as part of Ukraine, on the territory of which two popular republics appeared. But that's not all. Hungary, Romania, Poland have their territorial claims to Ukraine. Hungary is increasingly recalling its rights to Transcarpathia with Uzhgorod, where an impressive Hungarian population still lives. In Romania, they remember very well how the country owned Northern Bucovina and Southern Bessarabia. Poland has its own claims. Although Poland is a long-time enemy of Russia and, it would seem, should have some commonality with Ukraine on the basis of having a common enemy, in fact in Warsaw they constantly think about how to separate those lands from Ukraine that they consider to be "originally Polish."
A significant part of the lands of Western Ukraine, in the opinion of Polish nationalists, should return to the Polish state. These lands are called Eastern Lesser Poland. In September 1939, Lviv, Tarnopol and Stanislav voivodships, which were part of Poland after the collapse of Austria-Hungary, were incorporated into the Soviet Union and transferred to the Ukrainian SSR - as Lviv, Ternopil and Ivano-Frankivsk regions. At the Tehran Conference, the Western powers agreed that these areas would remain within the Soviet Union after the end of the Second World War. In the 1991 year, when the Soviet Union collapsed, three western regions found themselves in sovereign Ukraine. The political significance of these territories for modern Ukraine is enormous - they are the cradle and stronghold of Ukrainian nationalism, it is from these areas that volunteers arrived on the Maidan, it is here that the most radical Russophobic sentiments prevail. Surprisingly, these same "sacred" for the Ukrainian nationalists and the authorities of the land, neighboring Poland considers its own.
For Poland, the city of Lviv has always had a special meaning. Back in 1349, Lviv was conquered by Casimir the Great, after which he began to be actively settled by the Poles. After a couple of centuries, the city acquired a completely Polish face and became one of the most important centers of Polish culture of that time. In fact, it was the presence of Poland that determined the cultural, and for a very long time, the ethnic look of Lviv. Until the twentieth century, the Poles (together with Jews and Germans) constituted the bulk of the population of Lviv, while the Galicians - Ukrainians lived mostly in rural areas. Naturally, Lviv was a city of Polish culture, there was even a special language of the Polish language, which even now the descendants of immigrants from Lviv communicate in Poland itself.
Warsaw, Krakow, Lviv are three landmark cities for the Polish people. A Polish university worked in Lviv, many prominent figures of Polish culture lived. Naturally, the Poles would not be going to lose control of Lvov if it were not for the events of World War II. In 1944-1947, when there was a centralized population exchange between Poland and the Ukrainian SSR, most of the Poles left Lviv and repatriated to Poland. So Lviv ethnically (but not historically) ceased to be a Polish city, the Poles turned into a small minority here. But they are still dreaming about the return of Lviv in Warsaw, and they consider this goal quite realistic and achievable, since so far everything is in favor of Polish ambitions.
With regard to Western Ukraine, Poland has long pursued a policy very similar to that of Romania in Northern Bukovina and Hungary in Transcarpathia. Firstly, all ethnic Poles and people of Polish origin living in Ukraine have long had the opportunity to obtain Polish passports and many of them took advantage of this opportunity. Secondly, Poland provides assistance in obtaining a "Polish card" to all ethnic Poles and Ukrainians of Polish origin, who, thanks to this card, are given the opportunity to study and work in Poland. Naturally, most Ukrainians with Polish roots also use this opportunity.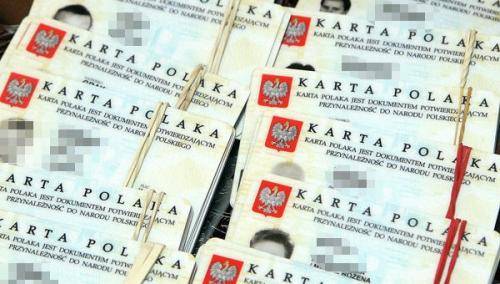 Like Romania, Poland took a course to patronize not only ethnic Poles, but also those Ukrainians whose ancestors were citizens of Poland before 1939 and lived in Polish territories. In fact, these are all indigenous people of Lviv, Ivano-Frankivsk and Ternopil regions of modern Ukraine. Naturally, the economic situation in Ukraine does not leave these people any other choice but to dream of getting a "Polish card" or a Polish passport. After all, Poland, as a member of the European Union and a country that is much more developed economically than Ukraine, can provide them with great job opportunities that are not there and it never seems to be in Ukraine.
In addition, Poland is also concerned about the restitution of Polish property in Lviv and other cities and towns of Western Ukraine. As you know, until 1939, Polish landowners and entrepreneurs owned huge land, buildings, and enterprises in the west of modern Ukraine. The cost of this property is enormous, but modern Ukraine simply cannot compensate Poland for it. The return of property in Ukraine to Polish citizens will lead to further infiltration of Poles, Polish business, Polish culture into the life of Western Ukraine. Moreover, in Poland itself this will be perceived only as a logical return to
historical
lands of the Commonwealth. For example, when sketches of new country passports were discussed in Poland, options with images of Lviv and Vilnius were offered, which clearly underlines Poland's territorial claims to neighboring countries.
In Warsaw, they are interested in a gradual "polonization" of Western Ukraine, for which they pursue an appropriate cultural policy - they develop the teaching of the Polish language at universities in Western Ukraine, support Polish cultural centers, and promote the emergence of Polish-language media. Naturally, they are not going to stop their cultural expansion in the region in Warsaw, although she encounters a mixed reaction from the Ukrainian authorities. But modern Ukraine has no forces for confrontation with Poland and is not foreseen in the near future. Poland is well aware that Ukraine is a political bankrupt and they are waiting for the long-standing dream of the Polish nationalists to regain control of the Eastern Lesser Poland.
In the eyes of Ukrainian nationalists, Lviv is the "Ukrainian Piedmont", the region from which "independence" began and which plays a key role in the unification of the country and the formation of Ukrainian identity. But in Poland they do not think so. Moreover, in Warsaw, they openly demonstrate complete hostility towards Ukrainian nationalism. Since 1 in March 2018 in Poland came into force a tough law against Ukrainian nationalism. Now, for denying crimes committed by Bandera, in Poland you can get from 3 to 5 years in prison. Members of the OUN-UPA (banned in the Russian Federation) are classified as criminals who organized the genocide of the Polish people during the Second World War. Meanwhile, official Kiev regards Stepan Bandera and his comrades as national heroes, these are symbolic figures for the Ukrainian state for lack of other "idols". Already here there is a sharp contradiction between Warsaw and Kiev. What kind of normal relations between countries can be discussed if the national heroes of one country in another country are considered war criminals guilty of the genocide of the Poles?
Many Ukrainian politicians are well aware that Poland, although it supports Ukraine against Russia, is actually counting on the dismemberment of the modern Ukrainian state. About this, in particular, spoke the notorious Oleg Tyagnibok - the leader of the nationalist party "Freedom". In Lviv, there was even a march of Ukrainian nationalists against Polish territorial claims. Some prominent figures of the Ukrainian nationalist movement, such as the writer Larisa Nitsa, expressed their indignation at the territorial claims of Poland.
But, at the same time, even such a famous figure as Dmitry Yarosh, opposed the confrontation with Poland and other western neighbors of Ukraine, urging Kiev to focus on solving problems with Russia. In fact, these words of one of the most famous Ukrainian nationalists can be understood as a willingness to give up the claims of Poland, Hungary, Romania in the name of the anti-Russian struggle. What is interesting is that Ukraine will be ready to sacrifice truly Ukrainian lands, where the Galicians historically lived - the creators of modern Ukrainian identity, but only to preserve the ability to resist Russia because of the Russian lands of Novorossia or the Crimea.
For Warsaw, the fussing of radical Ukrainian groups does not pose a significant danger. In Poland, they argue in more global and serious categories, considering the political and economic aspects of the possible implementation of their territorial claims. The Polish leadership is well aware that, firstly, Ukraine cannot respond to Polish territorial claims in any way, and secondly, Poland has a very serious political resource - the support of the United States and Great Britain.
Washington has long viewed Poland as a key component of Russia's confrontation in Eastern Europe, given the anti-Russian positions, historically inherent to the Polish elite, and the geographical position of Poland. The very existence of Poland makes it possible to "cut off" Russia from contact with Germany and hinder the development of bilateral ties that could contribute to the revival of a strong German state. Poland plays the role of a cordon between Russia and Germany. Therefore, in the United States and Great Britain they are looking at the growing territorial claims of Warsaw towards Kiev.
If necessary, the United States will readily allow Poland to seize the lands of Galicia. A strong and large Poland for the United States is preferable to the frail Ukrainian state with many internal political and economic problems. Moreover, even if Ukraine cut off Galicia from Ukraine in favor of Poland, Bukovina in favor of Romania and Transcarpathia in favor of Hungary, the Kiev regime would still continue its anti-Russian policy. For Kiev, this is a question of its political survival, for which the Kiev leaders will sacrifice any territories without a twinge of conscience.
As for the European Union, and especially Germany, for whom such growth of Poland is extremely unprofitable, they will not be able to resist the new territorial redistribution in the east of Europe. Germany, unlike the United States or Great Britain, has no real levers of influence on the political situation in Ukraine, the Polish or Ukrainian leadership. Therefore, Germany will be forced to accept the new redistribution of borders in Eastern Europe, although this will entail negative political and economic consequences for the German state.
Confrontation with Russia for modern Ukraine is much more important than the protection of their territories in the west of the country. The situation with the Crimea took this character precisely because Crimea decided to reunite with Russia. If, for example, Transcarpathia broke away from Ukraine and became part of Hungary, then no one would have noticed it, would have remained silent in Kiev. Since Ukraine is a Western project of "Anti-Russia", for the Ukrainian leadership only those areas of activity in which it is possible to develop a confrontation with our country are important.
Most likely, the issue of the transfer of any territories to western Ukraine will sooner or later be raised at the official level. And it is possible that Kiev, understanding the futility of its position, will be forced to agree with Poland's territorial claims. Perhaps the land will be ceded for some kind of financial compensation, for some kind of favorable agreement to Kiev. But the fact that Kiev will not defend its western lands is almost obvious.