The CEC of the Russian Federation continues to publish intermediate data on the results of the presidential elections. About 99% of all ballots have been processed so far. According to the results of their processing in the elections of the head of state, Vladimir Putin wins with the result of 76,65% of votes. This is an absolute record for Vladimir Putin.
history
his participation in the presidential election.
In the second and third places according to the results of the presidential race - Pavel Grudinin (11,84% of the vote) and Vladimir Zhirinovsky (5,68%).
The rest of the candidates - the results in the area of ​​statistical error.
The CEC noted that the turnout in these presidential elections was greater than during the previous few expressions of the will of the Russians. At the time of recording approximately 92% of ballots, it was approximately 67%.
Thus, about the extension of the mandate of the current president of the country voted about 54,5 million citizens of the Russian Federation.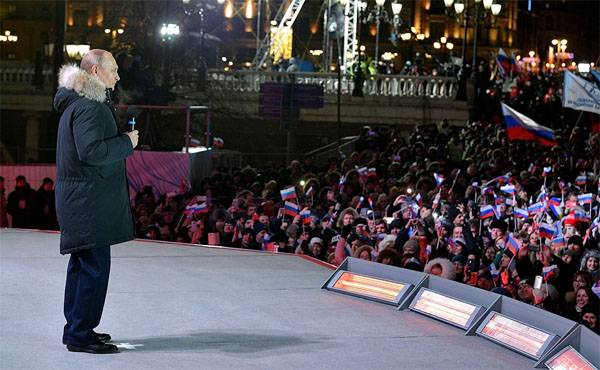 Vladimir Putin during a speech at Manezhnaya Square, where the rally-concert dedicated to the 4 anniversary of the reunification of the Crimea and Sevastopol with Russia was held:
It is very important to maintain unity, my dear. It is very important to win over those who could vote for other candidates. We need this unity in order to move forward. And in order to move forward, we need to feel and feel the elbow of every citizen of the country.

In the course of our work, we will not be guided by any current conjunctive considerations. We will think about the future of our great Motherland, about the future of our children. And, by acting in this way, we are certainly doomed to success. Thank you very much. Together we will undertake a large, large-scale work in the name of Russia.