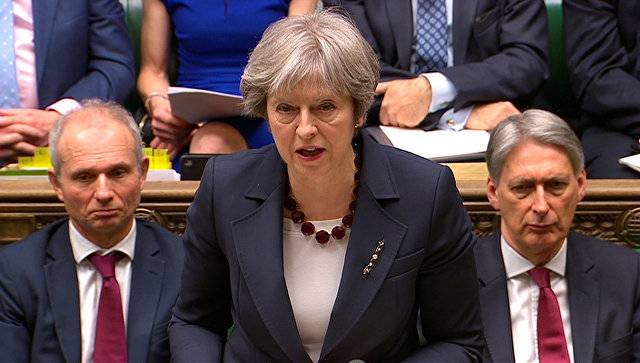 No, really, Teresa May really goes for the Order of Merit to the Fatherland.
Tank
rushing It remains only to wish her good luck with all her heart.
Let him begin to choke these ... voiced.
If you close your eyes to how crooked the whole Violin case is sewn-done, it remains only to hope that the results will be positive.
So, to put all this pseudo-Russian company on the floor in Scotland Yard and read out the verdict. About expulsion to
historical
Homeland. With confiscation.
There is still Cyprus, they say, decided to join. This is also peremoga in full. While there are no exact data on how many Russians have received Cyprus citizenship in the framework of the investment program, but there is no doubt that hundreds of people are counting there.
What does "within the framework of the investment program" mean? And everything is simple. You bring a suitcase of dollars to a country like Cyprus (okay, you can solve a bank transfer issue), you make a long-term deposit at a local bank for a long time, and you are given citizenship as a cherry on a cake and thanks for the development of the Cypriot economy. On a silver platter.
It is doubtful, of course, but suddenly?
Suddenly, all these fifa type Tinkov's daughters, turning up their noses from the "Russian spirit" in London, will get an offer to dump?
A list of something - hoo th!
The most interesting thing is the result for the query "children of the Russian elite in the UK" or something similar. Zero! The most recent is the 2014 reprints of the year.
It is clear that there is no censorship, just no one in Russia is interested in the existence of elites.
Yeah, that's how I believed that the son of Yakunin (Russian Railways) left his home and business there, or the daughters of Zheleznyak, Tinkov and others. Just
News
no from there.
However, live.
If in 2005, 343 Russian children entered UK private schools, then in 2016, already 608. At the moment, according to these statistics, the number of Russians studying in British schools is about 3 thousands of people. According to this indicator, Russia has the fifth place in the world.
Beauty? And we are there about Rezunov and Skripale ...
Although these are enough, Misty Albion has always been a reliable haven for all bastards and traitors. Historically, so to speak.
It is clear that these will not be sent home. It is a pity, of course, for the sake of some, and the death penalty would be nice to abolish. And remember how to tie knots on a rope.
But God forbid that Mrs. May has everything burned out. What are we on the list?
1. Ms. May unequivocally accused Russia of assassinating Skripal. She called the assassination attempt on Skripal a continuation of the story of the murder of Litvinenko, "aggression against Georgia", "the annexation of Crimea" and other "aggressive actions."
Nothing, for the sake of the last point, you can even take over the Kennedy assassination, not that there is some kind of Squeak. And so - survived.
2. 23 Russian diplomat (excluding the ambassador), who must leave the island within a week, will be expelled from Britain.
Well, do not worry. We set the same British. Generally insignificant and nothing terrible. And the diplomats of the motherland will serve in Mongolia, for example. Do not fall apart.
3. Britain wants to gather the UN Security Council to discuss the attempt at the Skripal.
So what? And veto on the table - admire.
4. None of the British officials will come to the World Cup 2018.
Well, this is the scariest point. How do we survive the whole country, I do not know. But something tells us that we will survive.
5. New laws will be adopted against foreign espionage and hostile actions of foreign powers.
UK domestic flurry is not worth commenting on. Not our monastery, not our laws, as it were.
6. In the future, in Britain they will adopt an analogue of the "Magnitsky Act" and will increase the transparency of real estate companies, as well as strengthen the fight against money laundering in Britain.
And here you want not just to yell at the backside: "Yes, YES, YES !!!", but also "Union Jack" waving.
The transparency of real estate companies is great! Hello, of course, the "Russian Londoners" and the owners of the castles on the coast. Especially if suddenly there is a loophole in the law, according to which real estate will turn out to be pressed. It would be nice.
Well, money laundering in the UK is a hint again to whom. Not bad either.
In general, it may turn out that, with her hysterical Russophobic actions, Mrs. May will do much more to return Russian money than all our Dumas and ministries thought up before.
It would be nice, of course.
Although it is clear that no one in Russia will be unlucky. There are also Belgium, the Cayman Islands and other secluded towns. Where "do not give their own."
But the idea is very good, Mrs. Teresa. We approve and support.
Any nonsense, British, American, anyway, whose, if it will be under the infringement of Russian elites abroad that in terms of money, in terms of real estate - this is not such a fool.
So Ms. May - good luck.