Modernization of industry in Russia does not stand still. To drive crude oil abroad is yesterday's day. In recent years, the country has been upgrading oil refineries. The volumes of primary oil refining are growing and promise to reach a new record level. Pure diesel fuel arrives in Europe. And this means that Russia's share in the fuel market of the European Union will only grow.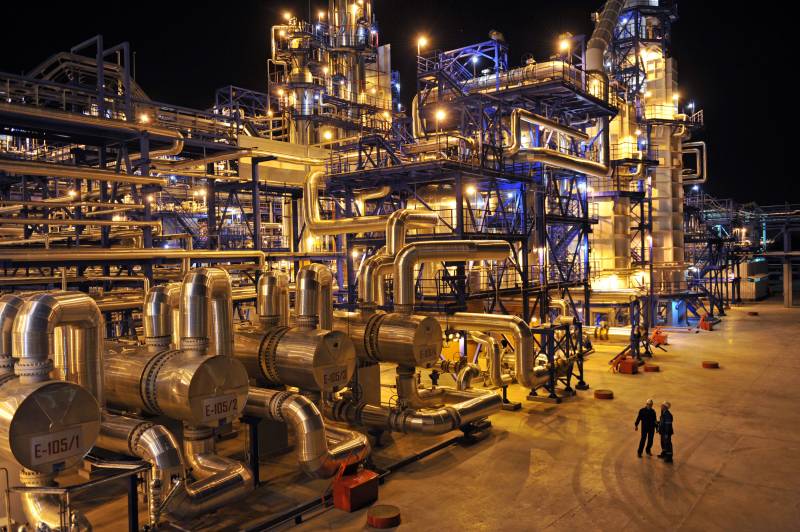 On the modernization of the Russian industry and the volume of supplies of pure diesel fuel to Europe, told on the agency's website
Reuters
V. Soldatkin and M. Nazarov (Vladimir Soldatkin, Maxim Nazarov).
Russia plans to dramatically increase the export of its fuel and get a large share of the European market. This is due to the large-scale modernization of Russian oil refineries, which will cost 55 billion dollars, according to companies and analysts.
Back in the 2011 year, after the crisis in the country associated with a shortage of fuel, Russia "began to modernize its largest refineries." At the same time, the authors recall, the tax system was changed: incentive measures have affected producers of cleaner and higher quality fuels.
This upgrade program is not complete. However, it is already clear today: it led to a significant increase in the production of light petroleum products and an increase in their exports. In turn, this struck at the profitability of European refineries.
Russian analytical center Vygon Consulting believes that in 2018, the volume of primary oil refining in Russia will grow by 8 million tons, reaching a record level of 289 million tons. This figure was noted in 2014 year. The current growth will be associated with both modernization and rising oil prices. Vygon Consulting predicts that Russia's exports of light oil products, including diesel, will increase to 2018 million tons in the 106 year (as domestic consumption decreases). For comparison: in 2017, their exports amounted to about 95 million tons.
According to Transneft, more than 38% of petroleum products from the port of Primorsk are sent to the port of Rotterdam. The Netherlands is followed by Germany (19 percent), UK (15 percent) and France (11 percent). According to this port, in 2018, it is planned to deliver 18,3 million tons of diesel fuel. A noticeable increase in supply is projected - up to 19,8 mln. Tons in 2019 year and 23,9 mln. Tons in 2020 year.
In total, Transneft has planned an increase in exports of ultra low sulfur diesel fuel (ULSD) by 3 million tons (to 26 million tons) this year. ULSD is the cleanest diesel fuel used to fuel cars in Europe.
Andrew Reed, analyst at consulting company ESAI Energy (USA), says that thanks to large hydrotreating investments, much more diesel fuel from Russia has become "a clean product that is suitable for Europe." "Currently, Russia exports only more than 650000 barrels of ULSD per day, which allows it to supply more than 500000 barrels per day to this [European] market," the expert noted.
"Exports of cleaner diesel fuel will allow Russia to continue expanding its market share in Europe to the detriment of competing exporters from the United States and the Middle East," he added.
Approximately half of European cars drive diesel fuel, the collaborators further recall. And European refineries are not able to meet domestic demand today. Therefore, Europe imports about 850000 diesel barrels daily! According to energy consultants, almost 20% of European diesel imports go to the East, with fuel coming from refineries through Suez.
But Russia does not sleep: according to industry sources and information from Reuters, Moscow plans to put into operation 15 new hydrocracking units. This will allow Russia to produce 2022 mln. Tonnes of ULSD before 18,2 (provided that enterprises reach full capacity).
The total amount of diesel fuel (including non-ULSD) can then reach 22 million tons (subject to the commissioning of all 27 facilities for deep refining of fuel oil).
In addition to increasing the production of diesel fuel, Russia intends to produce more gasoline. According to industry sources and Reuters, these same companies will be able to produce up to 10 million tons of naphtha annually (starting from 2022), which can be completely converted into gasoline.
"We expect Russian gasoline production to increase in this [2018] year. Growth began in the second half of 2017 (+ 0,4 percentage points) thanks to the commissioning of new facilities, "noted J. Lindell (" Vienna JBC Energy "). "This year we will see how gas-oriented enterprises will be involved," he added.
The use of diesel fuel in Europe is not an easy process: it is "closely watched," the authors further report. Previously, Volkswagen, Europe's largest automaker, admitted to the tricks associated with US emissions testing. German automakers, including both Daimler and BMW, have already faced a negative reaction to diesel technology, in which they have invested billions. The German government, after a court decision, tried to find ways to avoid bans on the supply of cars that are highly polluted.
Despite these problems and in spite of the fact that sales of new gasoline cars in Europe are growing, the ongoing shift has not yet forced diesel fuel out of the market. This is reported in the report of "JBC Energy", which would represent a "small threat" to Russia's plans to increase the export of diesel fuel to Europe.
This means, we note that while Russia's diesel expansion to Europe is not in danger. In addition, it is obvious that Russian pure diesel fuel is already today a strong competitor to fuel from the East.
Another thing is obvious: a large-scale modernization of oil refineries in Russia led to a sharp jump in the supply of products with a relatively high share of value added. Modernization is estimated by experts exclusively positively.
Recently, participants of the IV International Conference "Downstream Russia 2018: construction and modernization of oil refineries, gas processing plants and petrochemical plants", which took place from February 28 to March 2, visited the Omsk Oil Refinery.
Of particular interest to the experts were the facilities that were launched as part of the first stage of the refinery modernization, including the Izomalk-2 complex, built, by the way, according to the Russian project. This complex represents an innovation in the field of isomerization of light gasoline fractions. This is one of the most powerful installations of this type, not only in Russia and Europe, but also in the world.
Neftegaz.ru
. Its annual productivity is 800 thousand tons of isomerizate.
The products of the Izomalk-2 complex: a high-octane component of commercial gasolines with zero sulfur content, aromatic and unsaturated hydrocarbons.
The commissioning of Izomalka-2 and gasoline and diesel fuel hydrotreatment installations allowed the Omsk Refinery to completely switch to the production of motor fuel fully complying with the Euro-5 standard, to increase the depth of oil refining and the output of high-octane automobile gasoline. ONPZ was one of the first to achieve this in the Russian Federation. At the second stage of modernization (up to 2022), the depth of oil refining at this refinery will increase to the level of the best indicators in the world (97%).
The implementation of plans to modernize refineries and an increase in the supply of pure diesel fuel to Europe indicate that Russia is seeking to move away from sales of crude oil and prefers to supply refined petroleum products.
Observed and commented on Oleg Chuvakin
- especially for topwar.ru