At the US Department of State, which recently changed its leader, commented on the visit of the Russian President to the Crimea. Recall that on the eve of Vladimir Putin visited several objects in the south of the country - the bridge under construction across the Kerch Strait, as well as the new terminal of the international airport in Simferopol. During the conversation with the workers building the Krymsky Bridge, the president was informed that traffic on the bridge could be started in May. Also, the president spoke to those gathered at the rally in Sevastopol.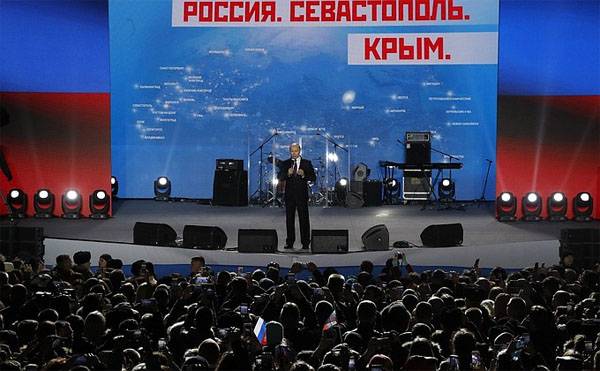 The US State Department issued a statement under the heading "Crimea is Ukraine."
From gosdepovskogo material:
Putin repeated false claims to Ukrainian territory (...) The inhabitants of Crimea in 2014 were forced to vote under the careful supervision of Russian military personnel.
Comment of the Russian Embassy in the United States on the statement of the US Foreign Ministry (published on Facebook):
Four years ago Crimeans accepted
historical
decision. In a real democratic way - through a referendum - they returned themselves and their land, Sevastopol and Crimea, to Russia. They corrected historical justice, which was violated back in 1954, when they were illegally transferred to Soviet Ukraine. The State Department could not pass by this event, issued an unprecedentedly angry and biliary statement. But, as they say, "you are angry, then you are wrong."