The press service of the Central Military District reports on the progress of training activities of intelligence officers concerning the use of the functionality of unmanned aerial vehicles. In particular, during trainings at the Totsk range in the Orenburg region, the Orlan-10 UAV and the Strelets complexes are used to establish the exact coordinates of the firing positions of the enemy.
The coordinates are transmitted to the command post and are used for subsequent counter-battery strikes.
More than 200 military personnel and about 40 units of various military equipment, including the mentioned drones Orlan-10, take part in the training session.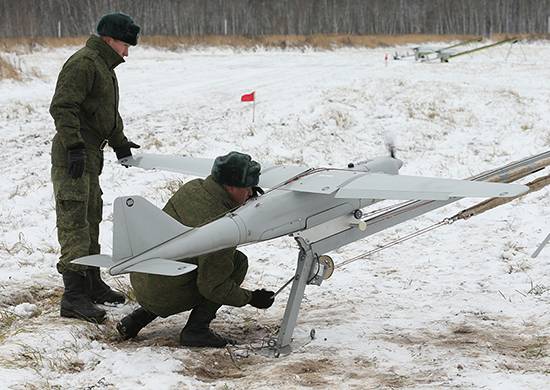 From the material
press service
:
In the course of the field work, the servicemen of the reconnaissance subunits, together with the commanders of artillery batteries, began to correct the counter-battery firing.
Orlan-10
- Russian unmanned aerial vehicle designed primarily for observation missions. Its development was done at one time by the "Special Technology Center". Since 2010, Orlan-10 has been actively used in the Armed Forces of the Russian Federation.
One of the features of the Orlan-10 UAV is a cryptographic command and telemetry channel with frequency hopping (pseudo-random frequency tuning). Work is carried out at a constant change of the operating frequency. When building a signal, a time-frequency matrix is ​​used.
With one remote control, you can control the 4 of the UAV Orlan-10.