According to the rotation plan, the Black Sea frigate
fleet
Admiral Essen headed from Sevastopol to the Black Sea straits, reports
press office
Southern District.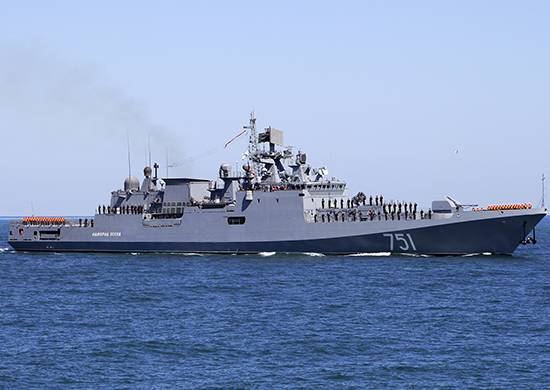 For the crew of the ship, this is the first trip to the far sea zone in the current year.
It is reported that "in the process of preparation at the station of permanent deployment and at sea, the ship's crew conducted shipboard exercises on various topics in accordance with the training courses for surface ships of the Russian Navy."
In particular, the tasks of navigation and maneuvering in areas of intensive navigation were worked out, artillery firing at sea and air targets was carried out, the defeat of the conditional enemy with the Caliber-NK missile system was performed,
says release.
The district recalled that the "Admiral Essen" is the second frigate of the maritime zone and the first serial ship of the 11356 project, named after the admiral of the Russian Imperial Navy Nikolai Otovich von Essen.
Help of the press service: "Ships of this series have a displacement of about 4 thousand tons, speed - 30 nodes, navigation autonomy - 30 days. Admiral Essen is armed with Caliber cruise missiles, the Shtil-1 self-defense missile system, a millimeter 100 caliber artillery system, anti-aircraft artillery, and a rocket bomb installation. "