The head of the Ministry of Communications and Mass Media of the Russian Federation, Nikolay Nikiforov, reported on an important event in the life of not only the Crimeans, but also the whole of Russia. According to the minister, ITU (International Telecommunication Union), which is structurally part of the United Nations, recognized the Russian telephone codes for the Crimean and Sevastopol subscribers. The very same transition to the Russian telephone codes in the Crimea was carried out in 2015 year.
Nikolay Nikiforov notes that after this event the network of communication services on the Crimean peninsula expects serious development. Previously, the improvement of communication systems on the peninsula was not without problems, since in fact the subscriber environment was under electronic control from Kiev. The fact is that the unrecognized UN telephone codes did not allow Russian companies to carry out modernization procedures in full.
Nikolay Nikiforov during a meeting with the head of the Republic of Crimea Sergey Aksyonov:
The International Telecommunication Union, a key organization within the UN, in official documents, noted the Crimea and Sevastopol as a full-fledged territory of the connected part of the Russian Federation, and some conversations on the topic of coherent infrastructure belong to the past.
At the same time, Nikolay Nikiforov noted that, despite the many difficulties, on the peninsula over the past 4, much has been done in the framework of establishing high-quality cellular communications.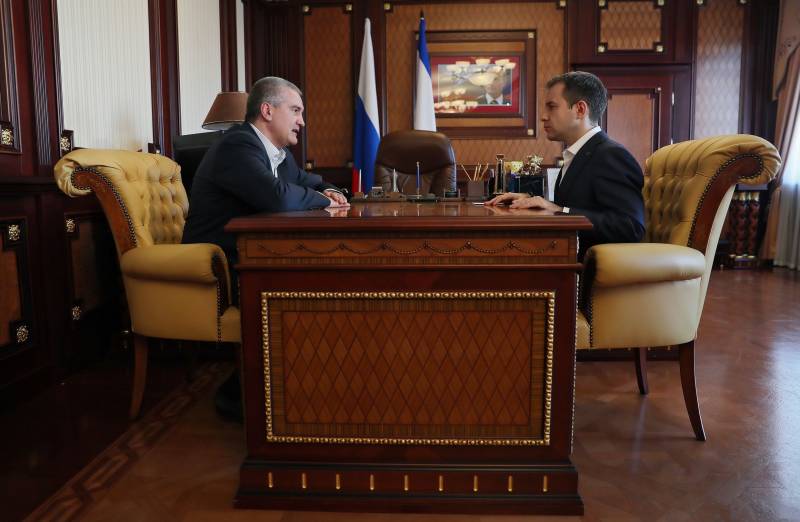 At the meeting of the Minister of Communications and the Head of the Republic of Crimea
Press office
The heads of state quoted the Minister of Communications and Communications:
A great deal of work has been done in 4 of the year: about 3 thousands of cellular base stations have been built. At the moment, this is mainly 3G, 2G communication, that is, voice communication and mobile Internet. We just checked the plans of mobile operators, I want to assure you that in the 2018 year at least 1,4 thousands of new base stations will be built. And it will be a new generation communication system - 4G, that is, high-speed Internet, necessary for our citizens. This will be almost a 50-percent increase in the number of such stations in one year. The pace of development of communication is not just not stopped, but rather gaining new speed.