Latvia hosted the largest rally in support of the Russian language in recent years. In the Latvian capital gathered over three thousand people. In their hands they held posters, the inscriptions on which read: "Hands off Russian-speaking", "For the Russian language and Russian schools!" language, marched to the building of the German Embassy, ​​as well as to the EU Delegation in Riga.
The rally was organized by activists of the Russian Union of Latvia public organization.
Recall that earlier the Latvian authorities decided to amend the Law on Education. New amendments lead to the fact that all Latvian schoolchildren, including members of national minorities, should be trained only in Latvian. In the final form, the amendments should begin in the 2019 year.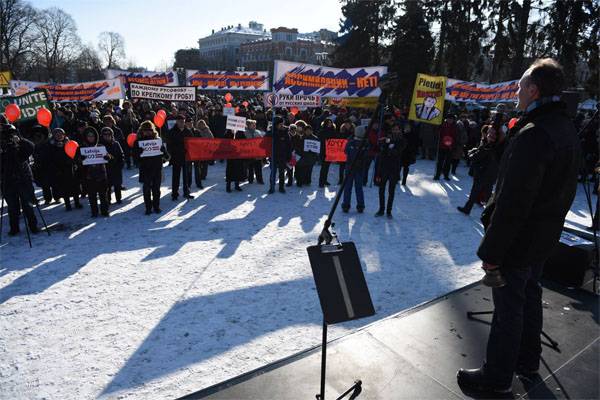 Photos from the February rally in Riga for the rights of Russian speakers
The citizens of Latvia, who opposed the adoption of such legislative decisions, noted that the Latvian authorities themselves are inciting an inter-ethnic fire in the republic, in which not only ethnic Latvians live.
Recall that since 2004, in Latvia there is a bilingual form of education, in which in the upper grades at least 60% of academic disciplines should be taught in Latvian.