Russian President Vladimir Putin commented on the American journalist Magin Kelly's question on NBC television about the Kremlin's press service. According to the president, he is not able to control the statements of all representatives of the administration. Vladimir Putin said that comments about the statements, for example, the head of the press secretary, Dmitry Peskov, would have been better received from the press secretary himself, and not from the president.
At the same time, Vladimir Putin said that sometimes Dmitry Peskov "carries a blizzard."
President of the Russian Federation (from the material
RT
):
Vaughn, Sands sits opposite, my press secretary. is he sometimes this blizzard. I watch on TV and think, what is he saying there? Who entrusted it to him. Because I do not comment on what they say the staff of the presidential administration. They are more than two thousand people. I have my own job.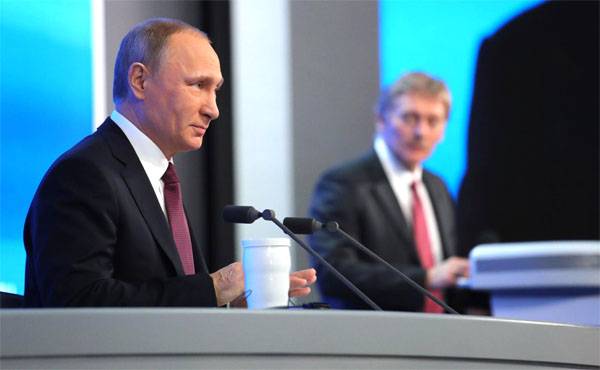 Putin was also asked to comment on the statement of another administration official, Andrei Krutskikh, who literally said the following:
Russia is on the threshold of the moment when it is necessary to talk on an equal footing with the United States in the information space.
President Putin's comment for the American NBC channel:
Someone said about his attitude to our contacts and work in a certain area with our foreign partners, in this case, the United States. Yes, I have no idea what he said. You ask him then what he had in mind. Do you really think that I control everything?