Daniel Sullivan, the representative of the upper house of the United States Congress of Alaska, said in which case Washington would be ready to make Moscow happy with the lifting of sanctions. According to the US senator, "probably, it would be worthwhile for Russia to cease activity in a number of regions of the world where such activity contradicts American interests." Such a statement was made by Mr. Sullivan at an energy conference in Houston.
It is a pity that the US senator did not clarify whether regions on which American interests do not apply today remain on planet Earth.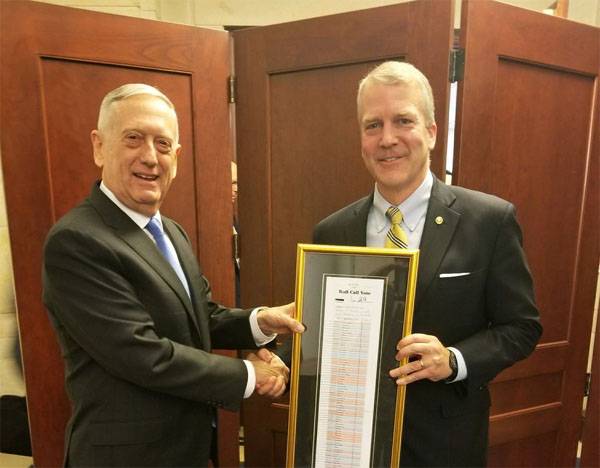 Senator Sullivan with Pentagon chief Mattis
In this case, Sullivan concretized that the sphere of American interests is, for example, Ukraine.
An American senator with inherent rhetoric for a US government spokesman announced that, with its sanctions, Washington, it appears, is opposing attempts to undermine democracy and Russian interference in foreign affairs.
The fact that interference in foreign affairs has long been the keynote of the American geopolitical program has not been voiced by the senator from Alaska.
By the way, Sullivan did not answer the question of whether US sanctions are also being struck on US energy companies, which are losing huge profits from the fact that they were obliged to leave joint projects with Russia.