This year, Russia will begin the development of a parachute system for dropping full-armed servicemen and equipment, reports
RIA News
a message from the deputy commander of the Airborne Forces on the airborne training of Lieutenant General Vladimir Kochetkov.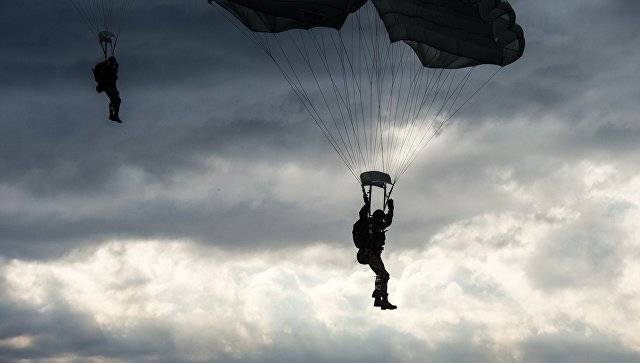 In 2018, as part of the Shelest development work (R & D), it is planned to begin the development of a new parachute system for the landing of personnel with full service weapon and equipment,
said Kochetkov.
He noted that "the adoption of a promising system developed under the R & D project" Shelest "will enable combat personnel to perform paratrooper units in modern combat equipment" Ratnik "."
According to the lieutenant general, at present, the main directions of development of personnel landing facilities have been formed.
These include the advanced Dalolet parachute system, which is designed to drop personnel from 1200-8000 altitudes at flight speed of an aircraft to 350 kilometers per hour with a delay in opening the parachute from three to 10 seconds using a stabilizing parachute. Maximum flight weight - 190 kilograms, the range under the main parachute from a height of 8000 meters - to 60 kilometers. On the harness, a cargo container of a front arrangement weighing up to 50 kilograms is attached, as well as a special seat for a long stay of the parachuter under the parachute canopy,
he said.
The general also said that in March, the "Renovation" development work was opened to modernize the D-10 parachute system and the Z-5 parachute to drop personnel into the "Warrior" combat kit ".
According to him, the parachute systems D-6 of the 4 and D-10 series are now used in the Russian Airborne Forces to drop personnel; spare parachute З-5, special-purpose parachute systems "Crossbow-1" and "Crossbow-2".
Modern parachute systems are highly reliable and make it possible to jump from high altitudes from military transport aircraft and helicopters,
added Kochetkov.