VO correspondent took a short interview with one of the greatest hockey players on the planet, a multiple world champion and Olympic champion, retired colonel of the Soviet Army Vyacheslav Fetisov. The conversation was about the performance of our hockey squad in Pkhenchkhane.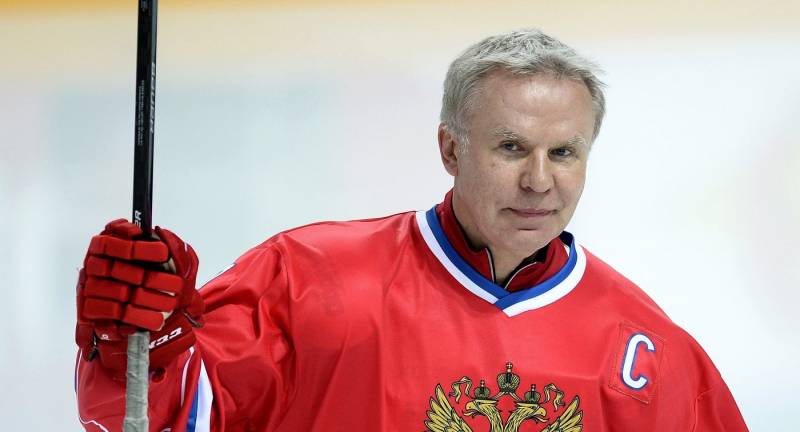 - Vyacheslav Aleksandrovich, how do you assess this victory? Frankly validolny match, overtime, a waterfall of emotions and the victory torn from the opponent's teeth ...
"I will say two things." The first one. Despite the fact that the Germans had never before been trendsetters in hockey, one must understand that at the Olympics there are no weak opponents by definition. The second one. This
historical
victory occurred exactly one hundred years after the birth of the Red Army. One hundred years ago, the victorious procession of the German military machine, sweeping away all life in its path, was stopped by a handful of desperate brave men in gray overcoats. Amid the gathering chaos, they walked towards their victory - or their death. These soldiers may not have hoped for anything. Their life was not expensive, and they were ready to die. And they gave the Germans a fierce battle, for which they, intoxicated by an easy victory, were not ready. And the invaders faltered and rolled away. And it became clear to everyone that to beat an invincible enemy is possible and necessary. From that moment on, our History made a sharp turn.
A hundred years later, the Germans decided to take revenge - this time on the sports field of battle, on the ice, on the sports arena. And we are again in a fierce battle, on the verge (or beyond) of the possible won. And it is very significant that the youngest player in the Russian national team, Kirill Kaprizov, scored the winning goal in overtime. Is this not a sign of fate? And in general - the fate of this match was clearly decided somewhere in heaven. It was a real providence. I can't explain this event to anyone else. The story was made before our eyes. Exactly one hundred years later, we again defeated the Germans. In America, immediately after such an event, they began to remove the epic thriller. There, anyone, the slightest success of his team - is a national sensation. And from this it immediately becomes the "great history of a great country," as they say. We have no such tendency (or tradition), unfortunately. For a variety of reasons, our journalists often do not see a great event before them. They are chasing some likes on the site, the number of views, other momentary nonsense and trifle. Just to be in trend, as it is now fashionable to say. But the Olympics by their nature can not be in trend. This is the greatest historical event - and not only in the world of sports. And olympionics are not ordinary people, not earthly ones. These are, if you will, supermen, supermen, people who have managed to push the limits of human capabilities.
But any sports feat (I simply can't find another word) needs appropriate verbal and visual design. Simply put, the hero needs glory - this is his social request. If it were not for Homer with his Iliad, would we ever know about the Trojan War? And now the world's coolest film companies are shooting wonderful thrillers on this historical plot. If it were not for Boris Field, the feat of Maresyev would also have been lost somewhere in history. And we are a wonderful film "Moving Up" about the sporting feats of our Olympians, who beat the American team that was unbeatable before in the finals of the Munich Olympics, only half a century later. That is half a century, our "patriotic" cinema was in a lethargic dream, without noticing an epic victory. Americans would make a whole series of thrillers out of this act.
We also missed the most beautiful historical moment when in 2008, at the World Hockey Championship, which took place - for a second - in Canada, after the 15-year recess, our team defeated Canadians and became world champion. The Canadians themselves called this finale a "dream final". But only they had in mind their Canadian dream. And we had our own. From the very first seconds of the match, our opponents rushed to the attack - crush, crush, crush the Russians, trample them into Canadian ice. But the very first counter attack of our hockey players ended with a goal. Canadians lingered for long. And after our athletes were in the minority, meteor shower of pucks hit the goalkeeper Nabokov. The virtuosity with which he parried these throws is worthy of the Guinness Book of Records. A very powerful and accurate shot of Kovalchuk in overtime, the Canadian fans themselves called "instant death." And after a few seconds, Kovalchuk himself, in ecstatic ecstasy, shouted into the lenses of Russian cameras: "This is for you, Russia!". Notice - no one forced him or asked him to do this. It was a beautiful impulse of a young soul, the call of his burning heart. And on the whole territory of our huge country - from Kamchatka to Kaliningrad - on this warm spring evening, firecrackers flew into the sky, beat fireworks, cars and hundreds of thousands of people poured into the streets shouted together: "We are the champions!". But then our media and masters of cinema (with very few exceptions) ignored this moment of ferocious serenity with this enticing victory, this is a nationwide jubilation. True, there is hope that in fifty years they will wake up from lethargic sleep and will be given another film masterpiece on the mountain - something like "Move up" or "Salyut-7". And then it was not we, but our children, who learned about the feat that our hockey players made in Canada many years ago and, as the son of their country Ilya Kovalchuk, unable to cope with the emotions sweeping through him, shouted his congratulations to the camera.
And at the Olympics in Pkhenchkhane after the victorious shot of Kirill Kaprizov, I myself wanted to shout to all the cameras of the world: "This is for you, Russia!". But I hope that someday someone will shout this phrase instead of me - from movie screens. And our descendants will learn about this sweet moment of entrancing glory, of which the great History of our Great country also consists.