Ukrainian law enforcement officers commented on the dispersal of supporters of Mikhail Saakashvili during the dismantling of the tent camp, located near the Verkhovna Rada in Kiev, reports
RIA News
.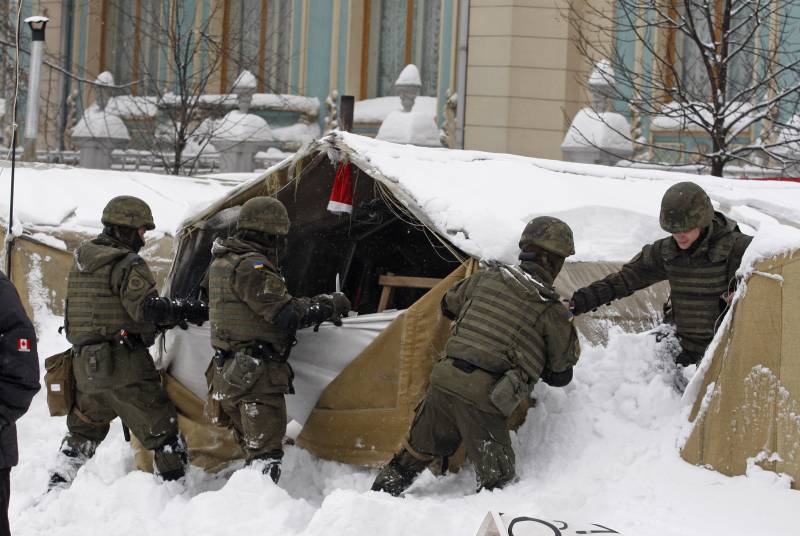 According to the adviser to the head of the Main Directorate of the National Police of Ukraine in the Odessa region, Ruslan Forostiak, in the camp of the activists "fighting grenades and other dangerous things were found," and the protesters themselves "tried to prevent the procedural actions and put up open resistance to the police".
Therefore, the reaction and behavior of law enforcement officers are relevant and consistent with European practices, and in general the situation at the scene,
explained the adviser.
According to him, some activists were put on their knees because "lying down would be dangerous for their health, given the low temperatures and snow."
According to the police, seven policemen and 13 protesters were injured during the clashes, 111 people were detained, everyone was already released. Tent camp was dismantled.
Regarding the cries of allegedly demeaning detainees. A brief stay of a detainee on his knees before boarding a vehicle is no humiliation, but the tactics generally accepted by police officers from different countries by bringing the detainee to a controlled position, precluding the possibility of a sudden attack on him. That is why, in order not to hold the detainees on the cold weather, lying on the snow face down, this method of control was chosen,
In turn, commented on the events of the press secretary of the Ministry of Internal Affairs of Ukraine Artem Shevchenko.
He added that the detainees who were "squatting or kneeling" were allowed to communicate, smoke, and no one beat them.
As previously reported, today the Kiev Prosecutor's Office has opened criminal proceedings on the fact that the Moscow law enforcement authorities may have exceeded their official powers during the stripping of the tent camp of supporters of the former Georgian President Mikhail Saakashvili.