The Italian Air Force adopted the 18 and the last jet training aircraft (TCB) of the M-346 Master in-depth flight training, reports
TSAMTO
.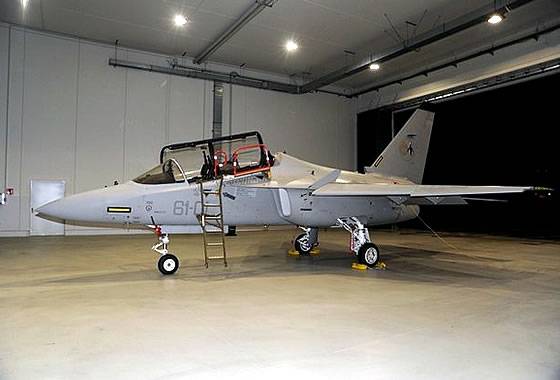 As stated in a press release from the Leonardo group, the plane's acceptance ceremony was held at the Venegono plant (in northern Italy).
It is noted that "M-346 is one of the most advanced TCFs on the market and is intended for the initial and advanced training of pilots of 4 and 5 generation fighters, including the EF-2000, JAS-39 Gripen, Rafale, F-22 and F -35.
Its design provides for the presence of 9-ti suspension points, which allow to carry up to 3000 kg of external load, which makes it possible to use as a light strike aircraft.
The pilot can use the helmet-mounted information display system and target designation.
"M-346 can be equipped with free-fall and guided munitions, including AB Mk / 82 / 83 / 84, guided GBU-12 / 16 bombs and Opher Mk.82. The aircraft can also carry Durendal Concrete Bombs, four BRD-6 containers or LAU-4 / LAU-7 / LAU-5002 containers, four Sidewinder AIM-32 or air-to-air IRIS-T, four UR AGMs -9 "Mayvrik" air-to-ground class or four Brimstone missiles, "writes the publication.
At present, the process of integrating the Rafael Reccelite reconnaissance container on board the aircraft continues.