The information about the dagger hypersonic rocket and air complex voiced by President of Russia Vladimir Putin was very gratifying to all those who put a lot of effort into creating the MiG-31 fighter. Now the legendary aircraft will acquire a new quality, writes "RG-Force"
It is known that the designers considered the "thirty first" not only as an air defense interceptor. In 80, it was planned that it would become a platform for launching the 79М6 Kontakt anti-satellite rocket. However, restructuring and "new thinking" put an end to this promising topic.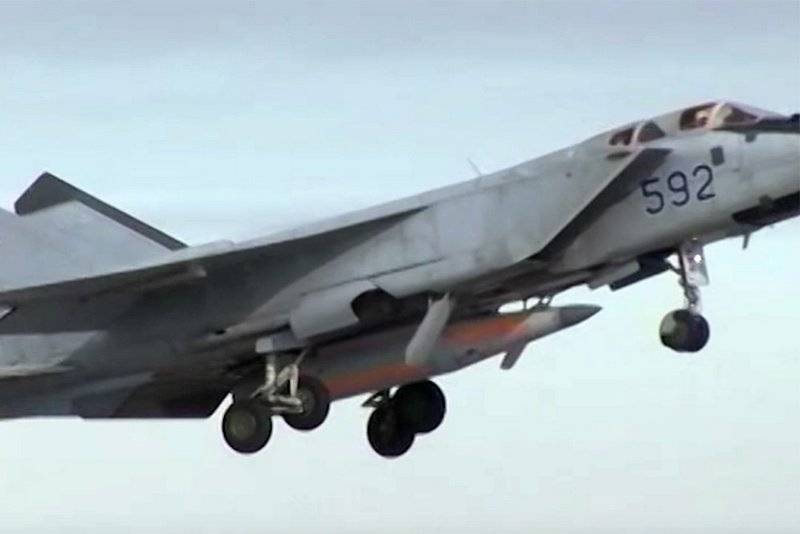 complex "Dagger" on the MiG-31
Already in the years of the existence of modern Russia, the possibility of creating a conversion version of this system, including in cooperation with the government of Kazakhstan, was being considered. The project was named "Ishim". But he was not brought to the end.
MiG-31, under the influence of ideas that were in their time at the time, even began to be written off at first, but in the end it was decided to keep the aircraft in the army and modernize them.
So, thanks to the modified radar, the aircraft had the opportunity to detect targets at a distance of 320 km. At the same time, the radar is capable of simultaneously accompanying 10 objects and directing missiles at 6 of them.
New air-to-air missiles can perform tasks at a record range - 280 km.
And now it became known about another specialty of these aircraft. Military experts believe that without the MiG-31, the Dagger complex would never have taken place. Thanks to the ability of the interceptor to reach speeds of more than 3000 km / h, the new rocket accelerates to hypersound.
In the United States and China, where they are working on similar systems, developers are forced to create more cumbersome and complex structures that are more difficult to bring to the level of a production product.