At the Misawa airbase, the ceremony of receiving the first multipurpose F-35A fighter into the Air Force of Japan took place.
TSAMTO
.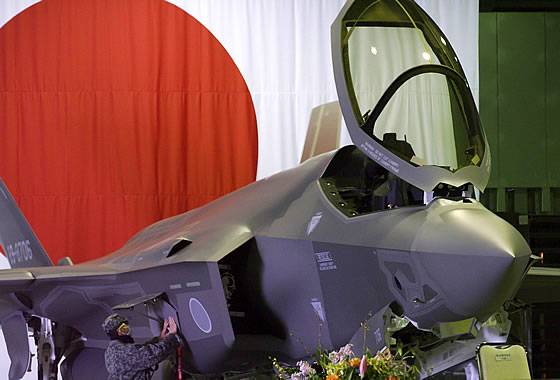 The ceremony was attended by representatives of the Japanese military, the command of the US armed forces in Japan and the company Lockheed Martin.
"The aircraft, designated AX-6, is the second F-35A assembled on the Final Assembly and Inspection Line (FACO) of Mitsubishi Heavy Industries in Nagoya (Japan) and the first to be adopted by the 3 th Air Wing of Japan Self-Defense Forces," - stated in the material.
The publication reminds that in April of the year 2012, the State Department approved the sale to Japan of four F-35 fighter jets with the usual take-off and landing with the option to supply another 38 aircraft. The total transaction value is estimated at $ 10 billion.
According to the Ministry of Defense of Japan, the total cost of the program, including the purchase of 42 fighters, their operation, repair and maintenance for 20-ti years, as well as the training of personnel, could be 1,6 trillion. yen (over $ 20 billion).
It is reported that the first 4 aircraft were assembled in the United States, and are currently used to train pilots at the Luke Air Base in Arizona. The remaining 38 will be assembled at Mitsubishi Heavy Industries (MHI) in Japan.