The Ukrainian Malyshev Plant will export one tank Oplot to the USA, Ukrainian media reported, citing sources. The delivery will be carried out with the help of a state-owned special exporter, the Defense Industrial Courier reports, citing a representative of the Ukrainian arms business.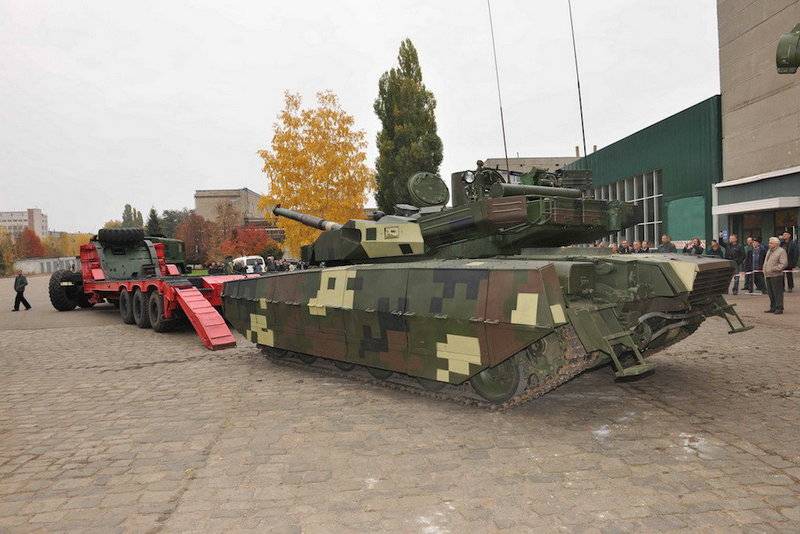 In Ukraine, they managed to call this supply promising. According to the Ukrainian "experts", the American side is thus studying Ukrainian technologies, which makes it possible for US-Ukrainian military-technical cooperation, which further implies the supply of Ukrainian technology to the United States
Military expert, editor-in-chief of the Arsenal of Fatherland magazine, Viktor Murakhovsky, in a comment for the newspaper VIEW, explained why the Ukrainian Malyshev Plant would export one tank, Oplot, to the USA.
Americans bought one tank in the same way as previous modifications of Soviet products bought one unit: one plane, one tank, one rocket. They need to disassemble the equipment, conduct tests, check the parameters of security, visibility in various ranges (radio electronic, optical, infrared) and so on.
- explained Murakhovsky.
Although the basis
tank
The Oplot is a well-known Soviet T-80, the Americans were interested in all its further modifications. In the same way, they bought, for example, the T-80UD tank and other units of armored vehicles, the expert noted.