In the US capital on the eve of the opening of the square of Boris Nemtsov. The ceremony was attended by the daughter of a former member of the Russian government, Zhanna Nemtsova, who positions herself as a representative of the "irreconcilable Russian opposition".
In the US, they do not hide the fact that the opening of Boris Nemtsov Square in Washington is timed not only for the 3 anniversary of the politician's death, but also for the upcoming presidential elections in Russia, so that Russians living in the United States visit the polling station at "Boris Nemtsov Plaza, 1". This is the address now with the Russian embassy in Washington.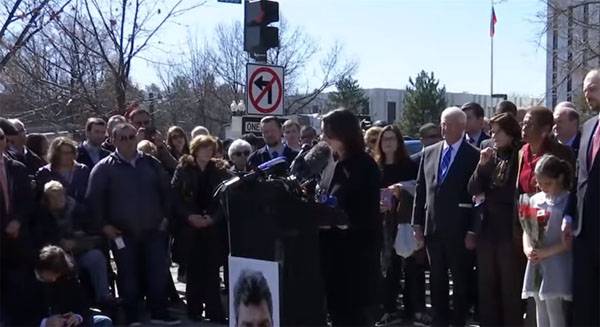 At the opening of the square in front of the Russian Embassy, ​​American politicians spoke, including ex-presidential candidate Marco Rubio, who said that Nemtsov "fought against the regime and corruption in Russia." Marco Rubio did not make any statements that, while Mr. Nemtsov himself was in the government, the fight against corruption on his part looked sluggish, to say the least.
Recall that earlier State Duma deputy from the LDPR faction Mikhail Degtyarev suggested that the Moscow authorities assign the unique address to the US Embassy in the Russian capital - the North American Dead End, 1 house. The Moscow authorities have promised to consider this proposal of the legislator in the near future.
Surveys in Washington after assigning a new name for the square in front of the Russian Embassy show that none of the local residents surveyed knows who Boris Nemtsov is. Assignment of the name of the square was carried out without the consent of the local residents, which once more indicates the nature of the American "democracy".