Head in the sand and everything out
As if offering himself,



In short, he himself sat in a puddle
And more often in broad daylight.
He thought - hid from grief,
What followed on his heels,
But he didn't get over it,
Outwit failed.Morality? Or maybe without morality?
She is not very necessary.
You are immoral silent,
When truth is so important to us.

Nikolay Shaparev, Ostrich - Fable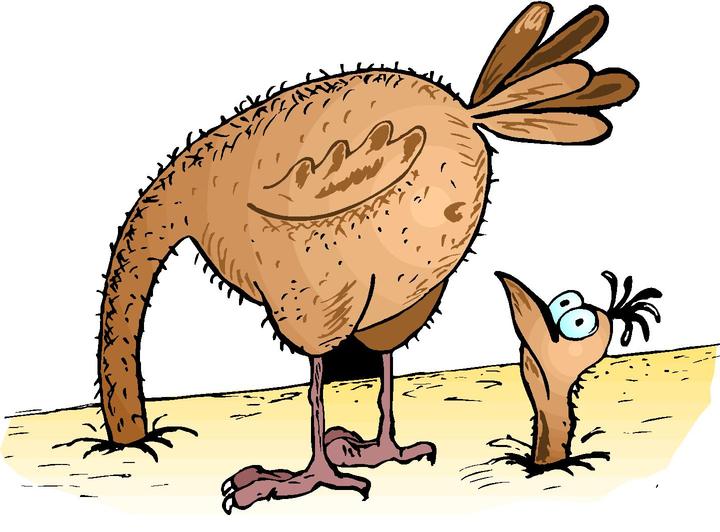 You read some articles and some comments on them and you just wonder how not to say more. Just stunned.
Here and optimism about the fact that not everything is lost, and confidence in the continuity of generations, and the conviction in the right educational process in engineering universities, and the conclusions that Russia has a guaranteed scientific and technological future, and not just the sad fate of the world gas station. In addition, there is also a belief in the device by human nature in such a way that it always draws on something sharp, and again the conclusions that demand creates supply. Well, and to those who disagree, and who proposes to walk around the country, an offer to walk by himself.
I'll make a reservation right away: I personally, of course, didn't take it all, for I never was the author of such materials, I have nothing to do with journalism, and moreover, I never thought that everything was lost. In a word, all these stones are not in my garden. Therefore, my view on such issues is, of course, subjective, but not biased.
With many authors and commentators, I agree that, really, to see only the bad and nothing good, it really is to be a dump truck. Here are just conclusions should rush? And write only about good, without constructive criticism ...? And under the fact that "Shapkozakidatelsky" hurray-patriotism "is no less harmful for the interests of Russia than defeatist and capitulatory sentiments," is ready to subscribe to every word.
Before I share my impressions of "walking around the country," I want to note that the view that a person is always drawn to something sharp, very controversial. Someone pulls, and some do not. For children, I will note when you say: "I recognize that you are watching TNT or 1 channel, etc. - damn it! Take care of business ", and explain why, then they do not pull, as far as I know. And, most likely, will not in the future to pull.
The same controversial issue that demand creates supply. At least not the case. This is, in general, a philosophical question. If everything was so strict, then there would be no progress. Example - until they invented the cell, there was no demand for it. There was, of course, a demand for greater mobility in communication, but not specifically for a cell phone. Everyone had a cellular without polyphony - with polyphony was not needed, as soon as he appeared with polyphony - we just need that. New iPhone - yes, we want! Luxury car - of course! For example, I have a great desire to go fishing on the moon, and where is the offer? At least, what flows from the TV screen is, in my opinion, sabotage, not born in demand, but aimed just at "bashing" the population, so that it only has demand in accordance with the proposed proposals. Sorry for the pun. But a developed industry, giving rise to a demand for science, which, in turn, for education is just the case.
What I write below, I think, is scary, but I will try to be as objective as possible.
I would like to ask some people - and you yourself walked around the country? Or do we live in different "Russia"? Let's compare?
Are we all bad? I think not. There are new plants (including with young personnel), new productions, there are electronic lines in the traffic police, tax, Sberbank, etc., there is the My Documents MFC, growth of individual housing construction, etc., etc., etc.… Finally, Crimea.
Are we all good? Also no. Now I do not want to talk about what other authors have written before me. Is that with rare exceptions. Also, I will not talk about falling rockets, zero (if not negative) level of real GDP and similar sharp, in my opinion, things. Let me just say what I see with my own eyes.
Below we are not talking about capitals and not about big cities, but about the rest of provincial Russia.
I saw more than 70 of rural areas (several regions, central Russia: villages, towns, villages, villages; the distance between the distant ones is 800 km), communicated with residents. So - the people there just survive. Almost no work. The little that is - sawmills, on which our young women work (they, probably, have always dreamed about this share *?), On some sawmills there are many Uzbeks. An everyday affair was children's alcoholism. Young guys leave on a rotational basis who where, or work in the woods on felling. (To the question: "What will you do when the forest in the district ends?" - the answer is: "We don't think so far, now we would survive"). Many have problems with alcohol. We sometimes not always and not everywhere for subsidiary work can find 4-8 people even for the salary of 1,2 thousand, 2,5 thousand rubles per day. Somewhere there, somewhere not, often brought from afar.
These are not only villages, similar problems in small towns - regional centers. There are people who did not leave, and did not "go into the woods," of course, but there are only enough of them until the advance. We are not alone. I know authentically that one "our" large trading network (of the type "Magnit"), having bought agricultural in one of the regional centers (!). the plant, having failed to recruit the necessary number of field workers (s / n - from 25 thousand rubles to 45 thousand rubles / month), was forced, having repaired the old hostel, to carry there workers from the region. center (130 km) on a rotational basis. No one is surprised by the cases of cohabitation of young "girls" with guys, starting with 15 years. No one is also surprised by cases of alcohol abuse in boys and girls. They stopped wondering that young women (27 years) live alone, having 5 (!!!) children (local people say that almost everyone is from "different"), are dependent on alcohol, and children are "undressed" and often hungry . Interestingly, the authorities have this matter? Few people are surprised when 18-year-old (!) Woman with a two-month (!!!) 2 girl is missing the week where it is not clear where she ran away from her husband (also 18-year-old) and, as it turns out, feasts with her lover (!) in "raspberry" for gypsies.
I am also silent about how villagers are forced to survive, to knit birch brooms and sell them to "outbid" at 2,7 rubles / pcs. This is before the crisis. After - 1,7 rub. / Piece. Trying to find the "pearl", I ask: "But there are programs for you, a loan there 1 million rubles. under the calves? "You know what answers:" You read them, these programs? It is unprofitable for us. They give a loan only with the condition to buy calves from a strictly defined manufacturer at a price 3,5 times higher than the market. "
In the "distant" 2010 year, an emergency occurred at our facility, they called (they called 4, asked for it, promised to give gasoline) to the police or the police, as you like, they didn't come (they had to go - 70 km) in general. A lot of negativity? Well - now positive: 2015 year: when we arrived (at the request of a friend, mentioned above, 18-year-old woe-to-be) to make out this Gypsy halabuda, the police, caused by them, arrived in 15 minutes. Progress? Of course. By the way, the opinion of the law enforcement officers is interesting - "How you all got us ...". (This is to the fact that they, too, are already tired of everything). More positive? Please, I am not personally acquainted with any of the cases when the guardianship authorities tried to select children. Probably everywhere in different ways.
Many schools dismantled "on the bricks", but children carry on buses to other schools for 20-30 km. In the 21st century, there are boarding schools in the grandest and richest country in the world, where parents send their children for the whole academic year, visiting them sometimes. True, there are good sponsors who carry children to various events, to an aquapark, for example. There have also been successful programs to overhaul existing schools in the countryside.
In fairly large villages, there are already deaths due to the fact that the hospital was liquidated, and instead it was the first-aid and obstetric point, and an ambulance from the district center to go 70 minutes. The opinion of the head physician is lawlessness. But then each has a separate room with modern equipment. True, sometimes there is not enough medicine. And the equipment is imported.
I came across all these examples personally, I know by name, name and address. They are not unique, the system is visible. I will not write about other egregious cases in order not to "substitute" anyone, but their weight.
Everything is bad? Not. I know several localities where people work and get paid. But their units. These are the places where large agricultural holdings work. But they provide only work, almost without worrying about the infrastructure, all the money is deposited in the centers. I know localities where schools still work. I know that many are fighting and not giving up, and many have already given up on everything.
This is all rural. What about the city? Besides the fact that there is good, there is the following. You can make an appointment with a doctor only for a few days, and for a specialist only for a few weeks, and for some - for a few months. Here it is necessary to ponder, but what is it like? When calling an ambulance, the elderly do not say their true age - they may not come at all. The queue for an urgent operation for tendon bundles on the arm after a knife injury should wait 1 a month.
At construction sites, there are more and more migrant workers, knocking down prices, living in conditions far from sanitary, and sending the money they earned to their homes. Fully round-the-clock shops selling fake liquor (under whose "roof"? - a rhetorical question). The problem with employment, especially for women. Low wages.
The closed banks of the rivers, their rent, irrigation of large reservoirs blocked by networks. Bestial attitude towards ordinary people, incl. to the elderly, although I already wrote this before. Social tension. Visiting people from rural areas, young guys, can get a job maximum for 25 thousand rubles. per month. And also tax and payment for a rented apartment. I was on the tower 4-ka, but I can not count. Explain to me, ignorant, how a young family of three people, including a child, can live on 11750 rub. per month??? (25000 * 0,87 - 10000 = 11750). Or did my rating system be 10-ball, and I didn't know? This is still the maximum, and if not?
As for the educational process in engineering universities. I do not know what's up with the requirements of the current level of technology, but I personally know the teaching staff of a technical university, and I know their opinion. It fits with mine - a university degree is almost buried. Almost - because there are still old shots. Soon they will leave, and then we will definitely bury. And one more thing. Some of the authors quite rightly wrote that education is Khan. And also the fact that we almost won the Ministry of Education of Russia. I completely agree. As for secondary education, in addition to a sharp drop in the level of knowledge, many are no longer surprised by the cases when young teachers lay out in social. networks, their pictures are in a half-naked form, when students do not know what a lazy person is, when they go to class with a dirty face after a firecracker exploded in the toilet, when they consider it acceptable to demonstrate their genitals to the class, and students know profanity so much that they can enter into shock even people who have had many years of camps behind their shoulders. And also the fact that cases when underage female students go to work as prostitutes do not cause a public outcry, just like rape of an under-aged drunk teenager of their own underage sister.
Here I want to focus particularly! I got my higher technical education in the second half of 90's, and it's good, thanks to the teachers. Maybe I agree that it was also planned to bury education in the 90s, but the main crushing blow fell far from the 90s! Yes, and it is clearly seen how it is being killed right now, by the way, the GEF (Federal State Educational Standard) of secondary (complete) general education was adopted in the 2012 year, and not in the 90. And the exam?
But it's positive again: almost 100 million rubles are allocated and mastered for the construction of 6 km of road to remote areas (at least something). True, while breaking 100 km of another road for the delivery of materials.
And just a couple of words. My good friends on the eve of the presidential elections in the United States were in the states. And their impression, of course, is only their personal one, that ordinary Americans either do not know that they are electing the president, or they don't care, but there is no rush, everyone is busy with their daily activities. Other people close to me visited the Crimea (not on vacation), and their impression is that what one of the authors of "VO" writes about in the article "Crimean wonders: who sold to whom in the Crimea" is not everything .
It is necessary to compare with what is said on television screens (this is about the question of supply and demand). But various clowns broadcast to us on TV screens, for example, that the state owes nothing to anyone. They, probably, had never heard of the principles of the social contract, however, as well as of the principles as such.
But the rest, we are probably all good. "And, therefore, Russia has a guaranteed scientific and technological future, and not just the sad fate of a global gas station. "The main thing - that the military aircraft painted. Well, that country is great. Great president. Great incomes of state officials, reaching up to several million rubles a day. Yes, plus the main thing - "stability". Miracles. I will note especially: it is not necessary to give, please, the Crimea as a counter-argument. If you look closely at
history
one can easily find a whole bunch of facts without a hint when a country after territorial acquisitions or reunions suffered a crushing defeat due to mistakes in its policies, both foreign and domestic. But this, for me personally, just do not want.
All around is great, only the people in need. And from such stability gives cemetery spirit. But it says - all is well. And it is very good when young guys in some places go to work at the plant, but very badly when young girls go to work in prostitutes in many places. Or is it true that with many we live in different countries? Or in different dimensions? Here, with K. Semin and E. Spitsyn, who shot his wonderful film "The Last Bell" (just looked between the lines of the article), I live in exactly one country. With some others - I do not know, some kind of matrix. Two questions involuntarily arise: Is all the good that is, is it a ray of light in the dark kingdom, or a flash in the ICE when gasoline is over? And the second is power in knowledge or happiness in ignorance?
Both that, and another is learned only in comparison. It is necessary to look - what is more, good or bad, and how we relate to other countries, with those that are successfully developing. Yes, and stability is also different. Are we stably healthy or stably ill? Seeing with my own eyes what is happening at least with the economy and education, the reports of S.Yu. Glazyev believe, and reports DA Medvedev and the statements of V.V. Putin is not. With all due respect.
And watching the propaganda on TV screens, you understand that Mr. Obama, Trump, Frau Merkel and Mr. Poroshenko are to blame for everything, or you begin to doubt someone's professional suitability. Or something else. Is that all we can do? And looking at how the West scolds us, it is believed that we are on the right course, and it does not come to mind that maybe the West requires us to give more than we have already given (WTO or education, for example). Or the fact that the West, perhaps, is not completely represented by such debtors who come to visit Solovyov, for example, and therefore, the opinion "the enemy of my enemy is my friend" may turn out to be erroneous. In the history of examples of mass.
Meanwhile, the chieftains will take an oath and promise to correct something. I will note the oath, not the people, the true bearer of power. I will not give examples from history in order to avoid an attempt to accuse them in comparison, but there are examples when the oath is taken to the leader, not the people, and how sad it all ends. As for the desire to correct, you can ride through the outback of an immense Motherland, there to correct - do not smuggle, however, then there will be no time to express loyal feelings.
One can argue for a long time about who is greater and mighty, and give birth to truth in disputes, and the country will not wither, it is great, and not be embarrassed that great countries do not behave this way. You can argue, argue, persuade to stop being indifferent, kindergarten, honestly. And you can shove your head like an ostrich in the sand or in the asphalt, or in the paving stones, and proclaim loyalty to the chosen path, or how bad the boyars are. And while they are trying to keep us behind the sheep, we are wrung out from ourselves ostriches. In the meantime, it remains only to pray to the Lord or hope for other strong compatriots who are forced to perform under the white flag, and gnaw victory at the Germans with their teeth? And you can look back and, having made an incredible effort over yourself for once, try to soberly evaluate everything. To each his own. But while the head is in the sand, we can be "devoured", or we will hopelessly lag behind, our children have already arrived, trying to transform the task of education into a creative Person and a thinking Person into the task of upbringing a corrupted stupid cattle and a "qualified consumer". And they just have to wait until the new generation grows up, and the old one goes into oblivion. Personally, I am convinced that nothing will come out anyway, but I'm talking about motives.
Russia is really a great country. But it is great in its history and culture, its achievements and values, its writers and scientists, its victories and its people with a capital letter. And once there is a conviction that Russia will survive, there is confidence in the near end of this besovstva and change of course. Let everyone decide for himself whom to serve, in what way, whether to serve at all, stand aside, or stick his head in the sand. Let me remind you only the words from "Woe from Wit" by Griboyedov: "I would be glad to serve, to be nauseated at the service" ...
But we curse, of course, all much. Remember, like Shakespeare's "The sins of others to judge, you rush so hard - start with yours and you won't get to strangers."? Who is to blame, what is the problem, and, most importantly, what to do? Everyone, of course, answers these questions himself, and I just want to quote the words of my friend, a highly qualified lawyer (do not compare with some), a sought-after lawyer and a successful entrepreneur (humanities, unlike me, a techie). I quote almost verbatim:
"The most important thing is that we do not have a new idea that could unite the active part of the population. All ideas of social justice did not take root in Russia, or were terribly perverted. We do not have a powerful social group interested in the development of the whole society, and the state, as one of the forms of community of people. Therefore, everyone lives by itself, what kind of people, and such are his rulers. Do not blame the mirror. So, even if this one, be a president, everyone will still work for themselves, they don't care about the people, because the people themselves don't care about the rulers either. Here is such mutual love in quotes. "
In my opinion, now only Grudinin P.N. and the political force behind it gives at least some chance for a new idea and expresses an intention to change the existing state of affairs, and other parties and individuals only slogans and populist statements, not only not confirmed by anything, but confirming the opposite. This is purely my personal opinion. I repeat, let everyone decide for himself.
Personally, I think that if I now stay away from this obscurantism, then my grandfather, who had spent years in the 10 camps, was in vain, and the second grandfather, a military officer, fought in vain. I remember them, I remember, I talked with them, they did not want this for their descendants.
And also, what can be done with those people who are mentioned here, who simply have no place to go, they can be sacrificed, they just haven't got lucky, they haven't entered the market? Are they really "conditionally superfluous"? I note that Moscow, St. Petersburg, Tatarstan and other more or less prosperous regions will not accept everyone for at least two reasons. Firstly, there will not be enough production to provide people with work, and secondly, a banal collapse will begin - not enough running kilometers of roads per square kilometer.
With respect to all.
PS In defense of animals. To the depths of their souls, they simply resent the words of individuals on this site when they compare Ksenia with a dog. You can not do it this way. Do you know that a dog is a friend of man! This is a faithful and faithful being. These our brothers are smaller and with German
tanks
helped to fight, and in peacetime there were many cases when they saved a person's life at the cost of their life, in the service, during the attack of wolves, etc.
PPS At the time of writing these lines, taking into account an excerpt from another fable in the epigraph, it clicked in the head, and its own fable was born ** (if, of course, it is possible to bring it here).
________________________
* - The fate of a woman, just like in Nekrasov ???:
"Stoliete raced, and again
Like that immemorial year
Stop a galloping horse,
In the burning house will enter.
She would like to live differently
Wear a precious outfit ...
But horses - everyone jumps and jumps,
And the huts are burning and burning. "
(Naum Korzhavin)
** - Fable about a strong eagle
Prologue:
There was a tale here,
Now here's a fable, perhaps set out below.
Once in that forest far
The animals decided how to live.
Went in the forest all the nakedness.
Hares gathered for advice:
Where to go? Who will help us?
Let's go to the bear - the answer is there.
Came and say - Brute! Please give us advice;
And the simple question seemed to be very wise to answer:
- Cabbage not endure?
- If not in the fields - work in the sea ...
- Let me collect some cabbage to feed the old hares?
- What are you, brothers, do not understand, will have to repeat again:
- My dear friends, don't be angry, I love you more than life,
"Cabbage" is not, but you hold on, I speak the holy truth.
And cursing his share,
One day in the morning,
By bringing the beasts of others with him,
They decided to bow to the eagle.
Having gathered together in a clearing,
Conduct amiable dialogue:
- You are the strongest, the main! With us!
Where is the truth here? Well, where is the use?
- The question, my friends, is not according to salary - I have security guards,
So that striped coyotes do not encroach on animals.
You should go to the bear, looking for the "raspberry" he, because he is downstairs, with the beasts in the field ...
- Went. - What? Is everything okay - woe! He sends hares into the sea ...,
Scored friends in the team, plow on conscience, not for fear,
Coyotes wander among us, are you really in no business?
- Like this? Well, he lost his temper, right
I will only tell you one thing:
That it is working properly,
Plus, I personally follow everything.
The beasts did not know what to think;
The eagle never lied to them;
Coyotes - it's scary, really, really,
But another question then:
- Why such a distribution list -
Goat guard with cabbage beds?
Owl - responsible at noon, the reindeer is watching the moss
A cow looks after straw, sheep think all day.
What kind of skill is needed here
To guard the carrot donkey?
- Tell me for mercy, what's the point:
Do you trust sheep to wolf?
We are silent about the fox, she is a red cheat,
Already, we note, for a long time - the chicken steals very cleverly.
He fattens, Rogue, very arrogantly, and looks at animals with mockery,
And the animals think with annoyance - when will there be that rope?
- So that the nests were not the earth, we will call a bird to us!
- What are you, is it a bird?
Well, I have to go, but I'm for you. -
Said and hid in heaven.
Some shout - give a bird!
Others - no - you give an eagle!
- We need someone who is close to us!
- No, strength, the main thing is important!
There was such a fuss
In an instant a wolf pack ran up
Eagle, of course, to protect; Magpies, those that borzopisty,
Come back to the heap peck a bird.
And the cuckoo connected to them:
- I could handle it too!
- Do you have any reason to be proud?
"I made two whole nests!"
The raccoon was completely taken aback, he was in bulk with his spirit, therefore, he was still attached ...
But ... did not pass. And drowned.
And only the woodpecker was silent,
Dug the pavement and missed.
Who is to blame, who is right - does not dream;
I note only, gentlemen,
Why do we need tit in the forest,
When idolize the eagle?
So what's the moral? - Look for yourself,
So as not to stay in the cold,
Do you hold a bird in your hand,
Or in the clouds soar with the eagles ...
Epilogue:
While everyone was arguing, they were engaged, they decided where their wines were,
Above the forest twilight thickened, and there was silence.
And maybe come out differently, there was a way out, finally
The beasts loved each other as the Creator commanded them all.