The large landing ship (BDK) "Peter Morgunov", which is being built for the Russian Navy at the Yantar Baltic Shipbuilding Plant, is scheduled to be launched in May 2018, the shipyard's press secretary Sergei Mikhailov said, TASS reports.
In the second half of May, the BDK "Peter Morgunov" should be launched
- He said, adding that the transfer of the Navy ship will take place, as planned earlier, in 2018 year.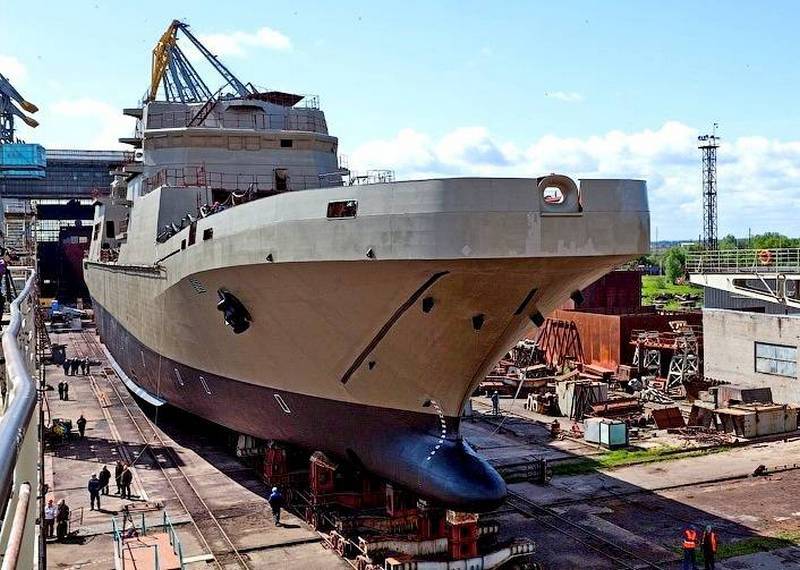 According to Mikhailov, the "paratrooper" finished the year 2017 with the closing of the first technological stage - the end of the ship hull assembly assembly, and in 2018 "large-scale work is expected, including the aggregate replacement of the main engine." The interlocutor explained that, according to experts, "the most complicated operation is carried out in order to eliminate the problem with the control of the ship, which was revealed during the tests of the head BDK project 11711 - BDK" Ivan Gren ".
All this work should be completed by the end of April so that the ship could be launched in the second half of May. "
The large landing ship of the 11711 "Peter Morgunov" project was laid at the Yantar PSZ in Kaliningrad 11 in June 2015 of the year, currently it is on the stocks in the pre-launch position.
The ships of this development project of the Nevsky Design Bureau have a displacement of 5 thousand tons. The ship holds 13 main
tanks
, 36 armored personnel carriers or infantry fighting vehicles or 300 paratroopers. It is possible to deliver to the destination a reinforced company of marine corps with standard equipment and land them on pontoons brought with them. The armament of the ship consists of six-barreled automatic guns with a caliber of 30 millimeters, two transport and combat helicopters Ka-29 are based in deck hangars.