The OSCE monitoring mission in Ukraine reflected in its reports cases of nationalist attacks on the building of the Russian Center for Science and Culture (RCSC) in Kiev, reports
RIA News
.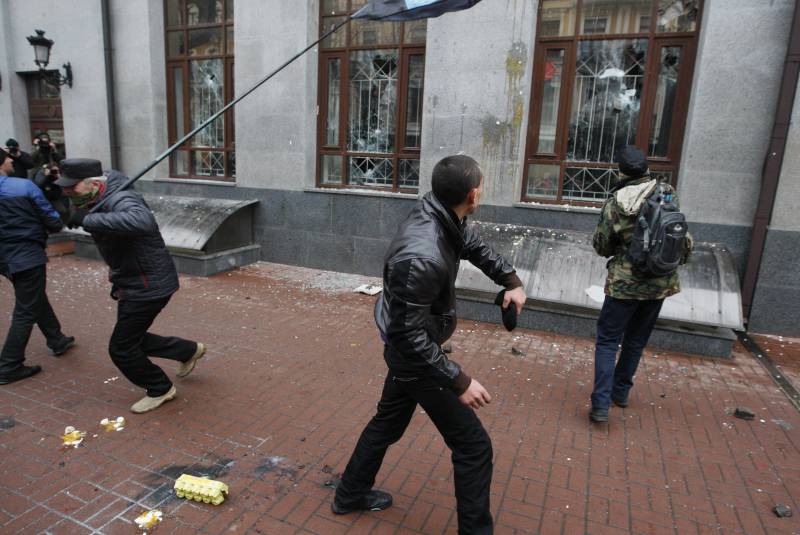 On Saturday, the organization's observers saw "on the walls inside the building inscriptions in the Ukrainian language (for example," Death of Russia ") made from a can shortly before." Members of the SMM patrol also found "scattered chairs and furniture, broken information boards, as well as a torn Russian flag."
The next day, OSCE staff noticed a group of about 70 men, some wearing masks. They walked from Independence Square in the direction of the center.
On the way, an aggressive crowd smashed the windows of the Sberbank branch with stones, then "about six people began to throw eggs in the direction of the Rossotrudnichestvo building."
They broke three windows and damaged the facade. According to the SMM, the front of the center building was fenced off by police. Around 16: 30, observers noted that all activists had dispersed, and there were special forces near 200 near the building. The SMM continues to monitor the situation
says the mission report.
Recall, on Saturday, around 30, representatives of radical organizations broke into the building of the RCSC and staged a pogrom there. The next day, the radicals threw the building of the Russian representative office with stones and eggs, doused it with paint, and smashed the windows. Policemen were on duty near him, but they did not prevent the pogrom.
On this issue, Ruslan Nimchinsky, Charge d'affaires of Ukraine in Moscow was summoned to the Foreign Ministry of the Russian Federation. The ministry stressed that the attacks occurred "with the filing of the Kiev authorities."