At one of the landfills of a separate motorized rifle brigade in the Murmansk region, the first lesson in driving new two-link tracked floating snowmobiles of high cross GAZ-3344-20 "ALEUT" was held, said the head of the press service of the Federation Council, Captain 1 of the rank Vadim Serga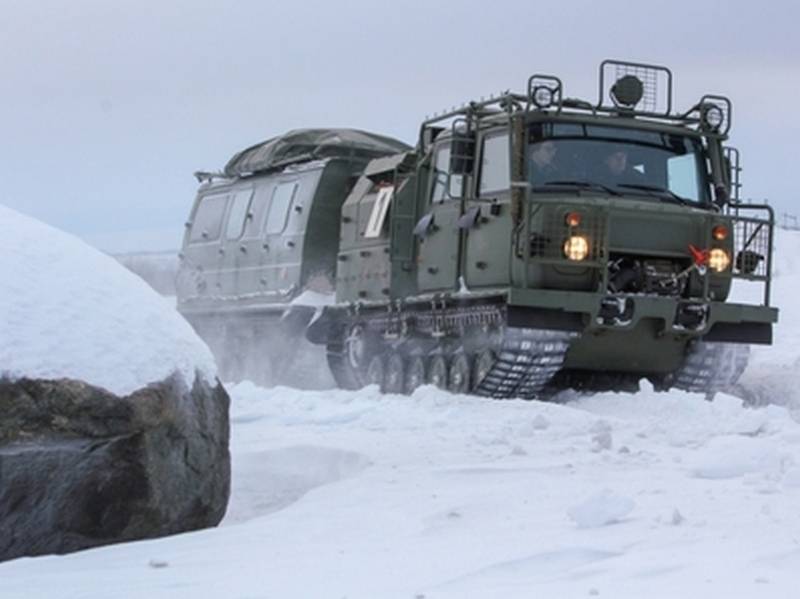 At the test site, new equipment showed its best. Drivers noted the high maneuverability, maneuverability and ease of management of snow and swamp-going vehicles, driving them on rough terrain and overcoming various obstacles
- he added.
Snow and swamp vehicles GAZ-3344-20 "ALEUT" entered service with a separate motorized rifle brigade of the North
fleet
at the beginning of this year.
Before conducting practical driving lessons, with driver mechanics, theoretical studies were conducted on the development of new technology, after which the corresponding tests were taken. Training for new snow and swamp vehicles was carried out both by contract servicemen and conscripts.
Multipurpose tractor is capable of solving various tasks for the transportation of personnel, various cargoes and trailers in extremely low temperatures to -50 degrees.
The adoption of the new two-link tracked floating snow and swamp-going vehicles of high maneuverability by the GAZ-3344-20 "ALEUT" will make it possible to expand the circle of tasks solved by the units of a separate motorized rifle brigade.
The GAZ-3344-20 "ALEUT" all-terrain vehicle is designed according to a modular scheme: the front link is an energy module in which 5 people can be transported, including the driver, the rear link is a convertible passenger module with a 15 capacity that can be easily converted into a sleeping, medical unit or command post, its payload is 2500 kilogram.