The Techmash Concern of the Rostec State Corporation plans to upgrade the systems of the first generation of corrected artillery weapons. These intentions were announced at the scientific and technical conference by the general director of the Bakhirev Machine-Building Institute Alexander Gordyukhin. The details of the project have not been disclosed yet, but it is worth explaining what the "Brave" and "Centimeter" are.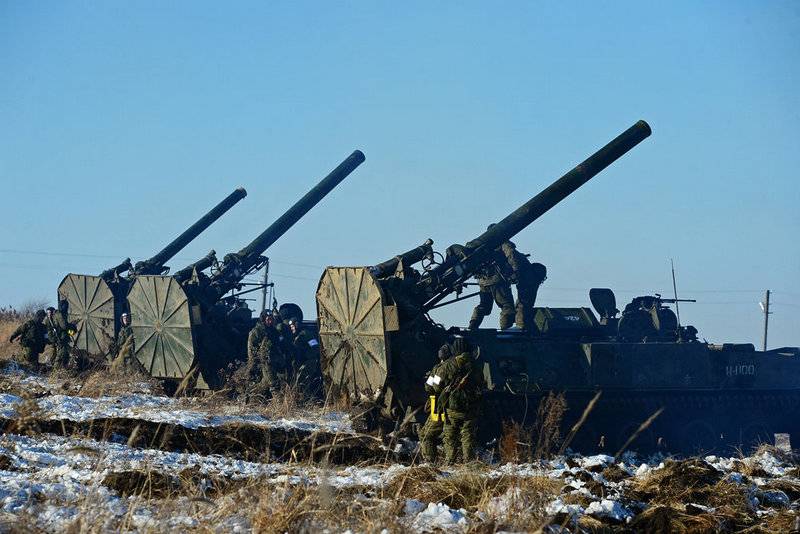 These are complexes capable of quickly hitting targets with a laser tip, bypassing one, maximum three shells. They are designed to destroy armored vehicles, launchers, artillery systems, command and control and communications, bridges, ferries and defensive structures.
For "Brave" is used the same 240 millimeter artillery mine 3F5. And for a centimeter - 152-mm howitzer projectile.
They were created at the beginning of 1980's. The development is based on the Russian concept of pulse correction RCIC.
Ammunition "Brave" and "Centimeter" equipped with jet powder pulse engines. When approaching the target (for 20-600 meters), the engines correct the trajectory of the projectile. Time targeting "Brave" is 0,1-0,3 seconds, and the target range reaches 3600-9200 meters. The "Centimeter" - 0,5-3 seconds and 300-7000 meters.
Both complexes performed well in the Afghan and Chechen wars. For example, in 1985, the "Daredevil" smashed a dilapidated fortress in the foothills of the Pokhvalonokok, where a group of militants sat down.
And although it is not known what will be the modernization of the complexes, we can assume that we are talking about their automation. While their work is completely dependent on spotters. They are forced to wear 18-kilogram range finders and other heavy equipment and rely on shooting parameters on a laptop, reports RG-Sil