Supporters of ex-President of Georgia Mikhail Saakashvili today march in the center of Kiev, demanding the impeachment of the President of Ukraine, Petro Poroshenko, reports
RIA News
.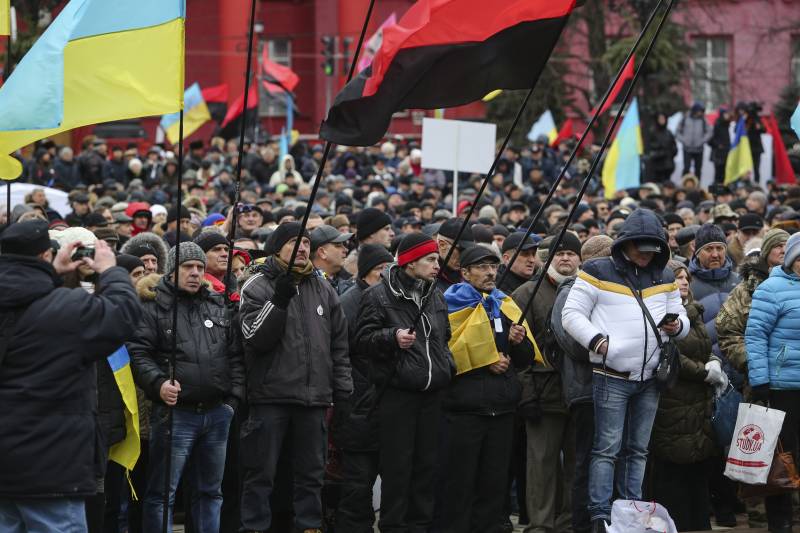 According to estimates by metropolitan law enforcement officers, several thousand people take part in the event.
"The start of the march was scheduled for 12.00 (13.00 Moscow time), but it started with a delay of approximately 50 minutes. According to the organizers, the delay is due to the fact that public transport on Sunday comes with delays, it was difficult for people to get to the center of Kiev, "the agency reports from the scene.
Saakashvili himself could not take part in the march - recently the Ukrainian authorities sent him to Poland. The column is headed by supporters of a politician, including a member of the Movement of New Forces party, David Sakvarelidze, a member of the Verkhovna Rada (the "Self-help" faction) Yegor Sobolev.
The column is heading for Mikhailovskaya Square. In the hands of the demonstrators the flags of Ukraine are the red and black flags of the Ukrainian nationalists. Marchers chant "Hands off Misha", "Resignation."
Demonstrators also require early elections to the Rada and the formation of a new government. The program of the protest action says that the new parliament should have "300 new deputies, independent of political forces and oligarchs, with a term of office of one year".
Demonstrators bypass people with plastic boxes, collecting money to support Saakashvili.
Recall, Saakashvili was sent to Poland on a charter flight on Monday. It was from the territory of this country last fall that a politician illegally entered Ukraine, breaking through with his supporters the cordons of border guards and law enforcement officers. Last Wednesday, Saakashvili arrived in the Netherlands, where he received an identity card giving him the right to reside and work in the EU.